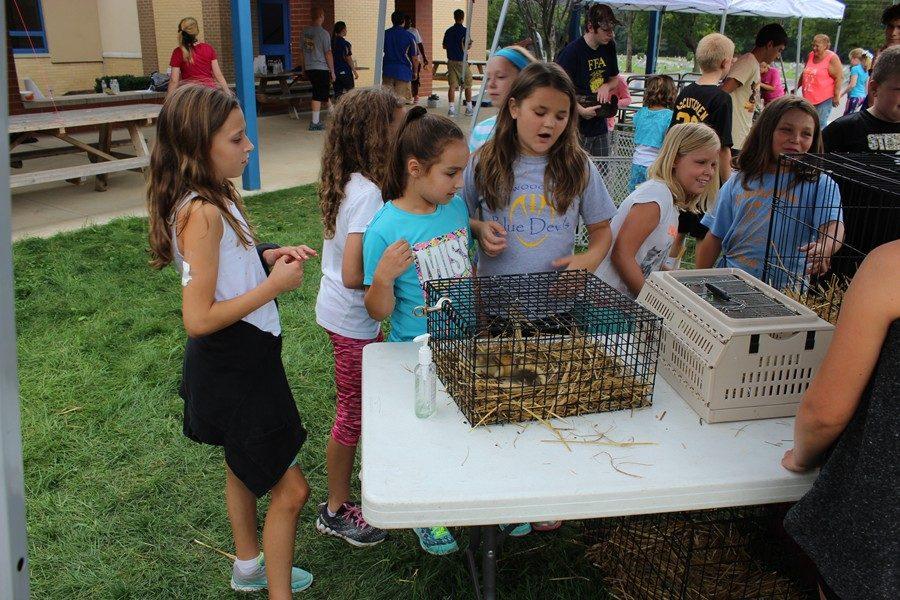 Brianna Sisto
Friday, September 9 was the fifth annual Ag Day at Myers Elementary.  During Ag Day agriculture teacher Mr. Matt Webreck and FFA students arrange a petting zoo, games, and other fun activates for the elementary students.
Ag showed presentations about food and other agricultural facts. They also brought in a petting zoo that is always a big hit with the elementary students. But the most important part about Ag Day is that the elementary students understand the significance of the agricultural business.
Senior Future Farmers of America (FFA) member Matthew Lardieri said that "Ag Day brings in a petting zoo, which has different stations that kids can go to and see different animals, from little bunnies to a pony."
That, according to the students, is the best part about Ag Day.
Seth Shaw, a second grader at Myers, said, "The best part about all this was the bunnies, because they hop and I get to pet them."
High school students set up games for the elementary students, but it comes second place to the petting zoo. Emma Taneyhill said, "The petting zoo is awesome!"
Matt also stated, "Ag Day is important because it gives the kids a chance to see new things they normally they wouldn't see."
Ag Day gives more than just a petting zoo. Students go from room to room to talk to the elementary students about where their food comes from and introduce them to the agricultural scene.
When senior Brandon Bickel was asked why Ag Day is so important, he answered, "Ag Day is important because we got to teach the kids and show them the agricultural business and where their food comes from."
To say the FFA does a lot for Ag Day is an understatement.
FFA Vice-President Abie Boutiller said, "For Ag day the FFA brings in a petting zoo, we have the dairy princess come in to talk about dairy, and we give the students presentations."
At the end of the day the kids sat on hay bales and took a photo for the memories and the knowledge they created and learned that day.