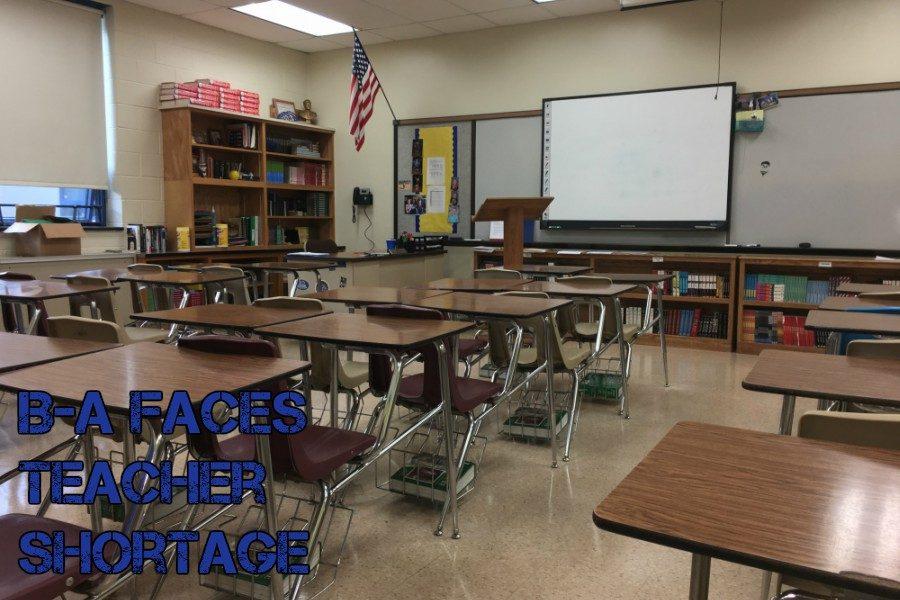 Kaelynn Behrens
There is an overwhelming teacher shortage in the United States.
While Pennsylvania is still reported as an attractive place for teachers, one study predicted a shortfall of 112,000 teachers nationally by 2018.
Unlike some teaching locations, Bellwood-Antis School District offers Highly competitive pay and a family-like working environment. Because of this, teaching jobs are in high demand at B-A.
However, the district continues to face teacher shortages in areas such as electives and substitutes.
Just this past year BAHS lost Ms. Gail Reitz, a Home Economics teacher, and Mrs. Susan Zong, an English teacher.
Over the summer, there were about twenty applications put in for the English position, and it was filled by Ms. Alyssa Cunningham. However, there were only four applications put in for the Home Economics teaching position, and it will not be filled until October, when Ms. Valarie Harris is released from her current job at Williamsburg.
BAHS principal Mr. Richard Schrier explained that the teacher shortage in Bellwood is "very noticeable."
"There used to be hundreds of applications that would come rolling in and we're noticing less applications overall," said Schrier.
Mr. Schrier predicts a "negative impact" on Bellwood-Antis in the future because finding qualified and experienced teachers is difficult.
Bellwood-Antis Superintendent Dr. Thomas McInroy explained that "we used to have fifty substitute teachers in the wings waiting to come in," but now there are five.
"Different subjects such as math and physics are more difficult to find teachers for," he said.
Dr. McInroy said benefits aren't what draws people to the teaching profession. It is simply all about the kids.
"You have to love being around kids; if you don't then you need to go somewhere else," he said.
"We are getting good people, but not the numbers," said Dr. McInroy.