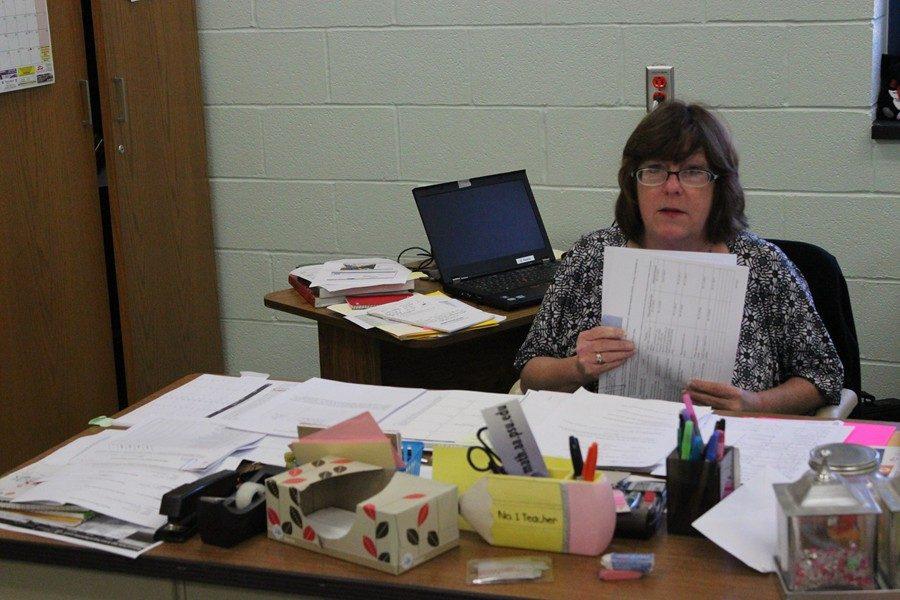 Julianna Norris
It is a growing concern that our teachers are drowning in paperwork. Paperwork ranging from lesson plans, attendance reports, reports related to the health or safety of students, and so on and so forth. There are around 40 types of paperwork that teachers handle.
The teachers that get affected the most by paperwork are special educational teachers.  With a short staff and multiple students, it makes them feel like they are being crushed underneath the paperwork.
Mrs. Padula, a special education teacher, said "Each student has an Individualized Education Program (IEP) where they set goals for the student, and plans on how to reach that goal, which could be 20 to 35 pages, and if the student reaches the goal we set up a new IEP and a new goal."
Mrs. Padula also says that some of the paperwork can be 7-10 pages long, and that doesn't include monthly graphs and charts for the students.
Although it's true that the special education teachers have the most work, the other  teachers aren't off the hook. They also have tons of paperwork to do. According to an article by npr.ed, teacher Rick Young left his job at a high school in Denver due to the overwhelming amount of paperwork. He'd been a teacher there for almost 25 years.  "It has become a lot harder to teach and in a way that I personally think is meaningful for my students," Rick Young said.
Mrs. Frank, a math teacher at Bellwood-Antis, commented on the topic. "The paperwork that is mandated by the state is often time consuming and has deadlines.  It is often hard to fit this into the schedule of regular teaching duties.  Furthermore, the state is continuously changing mandates.  When you think you have mastered all the forms required for a certain task, PDE changes them.  Some of the tasks regarding paperwork from the state seem overly cumbersome and I often feel my time could be better spent preparing meaningful lessons for my students."
Mrs. Frank feels that the paperwork could definitely drive someone from the profession of teaching.
It is safe to say that teachers have a desk load of paperwork. Each student has around 40 pages of paperwork, and with a school program that has a good sized special education class,  that's around 400 pages of paperwork for special education classes. Teachers have mandated papers from the state and have to plan what to do in class accordingly.
"If people come into the profession thinking this a leave at 3 and forget about it until the next day kind of job, they may have their eyes opened and realize it is more than they want to put in" said Mrs. Frank.
At the end of the day it's all worth it. Seeing the student move on with a good education is priceless. We give praise to the special education teachers and all teachers for their hard work. The teachers put in hours of hard work and dedication in order to help the students forward themselves in life.