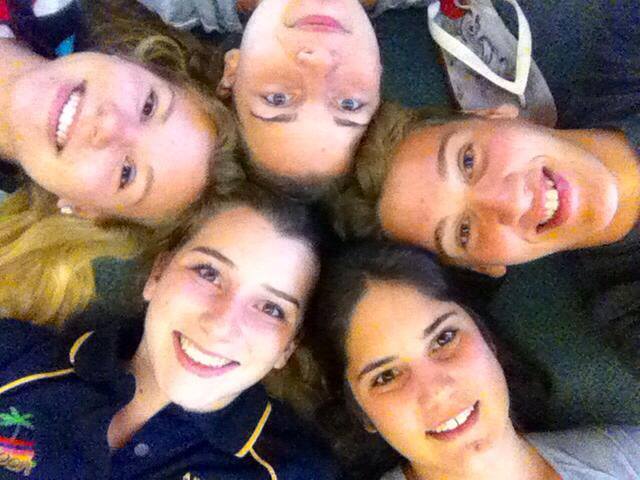 April 26th is Hug an Australian Day.  Now, probably no student at the Bellwood-Antis School District knows an actual Australian.  We do, however, know an adopted Australian from here at Bellwood-Antis School District.  That adopted Australian is Alyssa Wombacher.
Alyssa is a junior that had the opportunity to go over to Australia as part of the Rotary Club student exchange program.  She is having a lot of fun.  She said, "When I talk about my exchange to people back home, they respond with 'but you're in Australia, that's amazing!'  Yes, It is EXTREMELY amazing and I'm so grateful, but I've had to go through a lot to get here."  She also added, "I've grown so much from this experience.  I can't explain how amazing this year has been."
Alyssa is having so much fun, she doesn't want to come back home.  Alyssa has is spending an entire year in Australia and she can stay there until July 31st when her visa runs out.
Alyssa thinks that it will be a challenge to change back to how she lived abroad. She said, "I've had to live in five different homes with five different families, each one being different."  She also added, "I'm actually really comfortable with the Australian culture and am starting to forget how I was back home. I'll definitely have reverse culture shock."
For Alyssa, the year has gone very fast and she has enjoyed every moment of it.  There are a few things that are not as enjoyable.  She said, "The thing with being an exchange student is you have to act like everything's okay, even when it's not. I've had my down moments, but it's how I react to the family and Rotary that defines how I am as an exchange student to them."
It has been a life changing experience for Alyssa and  she has a top three of most memorable moments: whale watching, snorkeling in the Great Barrier Reef, and spending New Year's Eve with all her friends.
She also gets to go on a 'safari', where she can travel all around Australia.  She will first go to Cairns, then to Alice Springs in the center of Australia, then to Uluru with the famous rock/mountain, then to coober peddy where she will be able to sleep underground, literally.  She will then get to travel to Gladstone, where she can stay the night in a haunted jail, then to Adelaide, then to Melbourne, then to Canberra, and ending in Sydney.
She said, "I go with all the other exchange students in my rotary district and the surrounding two.  I'm so excited for that."
She said, "I will then go to a district conference right after which is in the complete middle of Australia."  She then added, "Then I'm going with my Italian best friend and exchange student buddy Anna to a 5 seconds of summer concert."
There is a lot going on with Alyssa. After all that, she will only have two months in Australia left.  She doesn't want to leave.