Matt Jenkins: never say die
B-A grad overcomes injury to shine for Division III St. Vincent
Many athletes from Bellwood-Antis have gone on to play next-level sports.  However, one athlete has overcome physical adversity to be able to continue his football career at St. Vincent College.
Matthew Jenkins is in his final season as a Bearcat. After experiencing several season ending injuries, Jenkins is back on the field for a final go.
Matt was a standout athlete when he was at B-A, starting on the football team as well as lettering in track and field, so he had high expectations at the college level.
However, the transition from high school football to college can be insanely difficult. The competition gets harder, games get longer, and opponents are bigger.
When Matt went to St. Vincent it was a bit of a reality check.
"The transition was a little surprising to me, both on and off the field. Kids were all around better athletes from around the country. I can honestly say I've played with athletes that could compete on a Division I level," said Matt.
The past few years have been a rough road. He has torn his MCL and sprained his ACL, which translates into missed games. In fact, he missed essentially all of the 2015 campaign after his MCL tear.
Stepping back on the field for the first time this season was a little scary for Jenkins.
"It was a little frightening to be honest.  I didn't know how my knee would hold up coming back into full contact, so I was a little hesitant," said Matt.
Matt's coach Ron Dolciato praised his work ethic and desire to get back on the field.
"Matt has performed extremely well after his injury last year that kept him out basically the whole year," Coach Dolciato said. "Not only did Matt come back stronger and faster due to his great off-season work ethic, but he also lost 25 pounds in the off season. This has helped him be much more mobile as a middle linebacker for us this year."
Matt is definitely  on a grind that refuses to stop. Facing very serious injuries, Matt has battled through them and is back to one-hundred percent.  It's a very long process that could crush someone if they don't have the full motivation to work through it.
"
Football has been a huge part of me, so not going out on my terms wasn't ideal for me."
— Matt Jenkins
Fourteen years of Matt's life had been dedicated to football, so he was determined to get back for his senior year.
"Football has been a huge part of me, so not going out on my terms wasn't ideal for me. I focused the spring and summer semester on rehabbing my knee for the return. I knew I'd probably never play football again, so it motivated me to enjoy my senior season," said Jenkins.
Matt can offer some great advice for younger athletes who suffer the injury problems he did.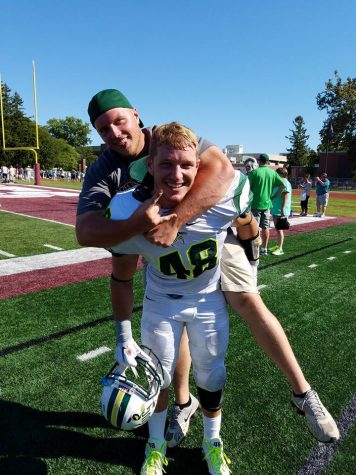 "The advice I have for athletes dealing with adversity is to keep your head up and keep pushing yourself to get better. Don't let injury define who you are. Adversity can come in many shapes and forms. How you deal with it is that which defines who you are," said Matt.
Along with advising younger players, Coach Dolciato said Matt is motivating current members of the Bearcat team.
"Matt has also been very inspirational to the other players due to his injury last year and coming back better than ever," he said. "He's performed extremely well and we are looking forward to the rest of the season of him leading the defense."
Now that Matt is back on the field, he has very high expectations for the season ahead. Each season it seems the Bearcats have a period of struggle, but this year could be different.
St. Vincent is currently 4-1, and Matt leads the team in solo tackles (28) and total tackles (45), and he has three tackles for loss.
"Each year our expectations are to win the Presidents Athletic Conference. But we usually get off to a rough start, crushing our hopes. This year, however, we are more disciplined and have some real talent on the team. We are riding high and our target is on the championship, even the NCAA playoffs," said Matt.
The 2012 B-A grad has things looking up for him. A major bounce back is just what Jenkins needed, and that's the mission he is on.