Top of the ICC: junior high wins it all
Team completes ninth undefeated season under Coach Burch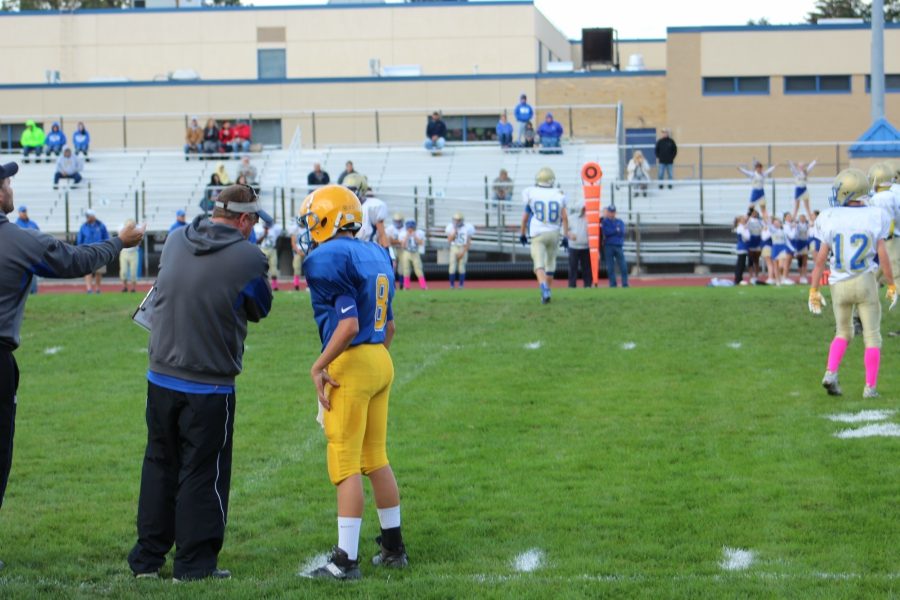 The Bellwood-Antis junior high football team scored 22 points in the fourth quarter to ignite a 30-6 victory over Mount Union at Memorial Stadium last Thursday.
This was the last game of the season, allowing B-A to cap off an undefeated 7-0 season, along with an ICC championship title.
"
We weren't going to let a few injuries get in the way of an undefeated season."
— Maeson Eaken
The championship was the junior Devils' sixth since 2008.
More impressive, B-A accomplished the feat with many of its starters injured for the finale against MU. Four starters missed that game alone.
"We weren't going to let a few injuries get in the way of an undefeated season," said Maeson Eaken. "We knew we weren't at our full potential, but we wanted to win so bad that nothing was going to stop us."
Bellwood scored 8 points in the first quarter and the game went into halftime with B-A up 8-0.  Mount Union then scored on a 26-yard pass play scoring to cut it to 8-6 in what seemed to be a defensive game of football.
In the fourth quarter, leading just 8-6, B-A's John Kost scored on an 8-yard run, Zach Mallon returned an interception 40 yards for touchdown, and Joe Dorminy scored on a one-yard run to complete the 22 point fourth quarter for the Blue Devils.
Kost said that, "It feels great to win the ICC and go undefeated because the team put so much work into this season and for it all to pay off is great."
Coach Burch said the team's determination was a factor.
"These guys are a talented group of young men that loved to hit and were intimidating.  On offense they lit up the score board averaging 43 points a game.  They were not going to be denied an ICC championship and an undefeated season,"  said Coach Burch, who directed his ninth unbeaten junior high season.
Quarterback Trevor Miller said the championship capped off a wild season.
"The season was full of highs and lows and hard work," he said. "It took everything we had in us to pull off our undefeated, ICC championship season. We knew it would be a battle and that we had the talent to win."