Blue Band Boss
B-A grad Dylan Albright enjoying his days in Penn State's marching band
Games like the Ohio State game last week, when it's absolutely insane in Happy Valley and the Penn State Blue Band is getting run over by crazy fans, are the games that Dylan Albright lives for.
"It was insane when Penn State scored the go ahead touchdown on the blocked field goal," Dylan – a Blue Band member – recalled.  "That's the loudest I have ever heard the stadium!  The student section rushed the field and I nearly got knocked over twice!"
Dylan and the Blue band are a huge part of the all the Penn State football games, but the easy ones are the fun and exciting ones like last Saturday.  The Blue Band's biggest job is keeping the crowd pumped up, so even though blowouts are fun for the fans, for a Blue Band member, they're not.
"For big plays, especially in big games, we get to lead everyone in the 'Seven Nation Army.'  We are the loudest fans in Happy Valley!" Dylan said.
"
When you tell someone in your lecture class that you're in Blue band, the typical response is 'The Blue Band? Oh my god I love the Blue Band!!"
— Dylan Albright
A 2013 graduate from Bellwood-Antis, Dylan has found a lot of success and fun as a member Penn State's famous Blue Band.  He's not alone.  Several other members of the B-A community have played in the Blue Band including chemistry teacher Mrs. Carrie Clippard, who was in the drumline, retired guidance counselor Mr. Jim Rumbarger, who played trumpet, and current band director Mr. Patrick Sachse, who played trombone.
Dylan loves having the opportunity to be in the Blue Band.  A sousaphone player, he said it all starts with building relationships.
"Many Band members in high school are stereotyped as certain things like geeks or un-fun people but at PSU it's totally flipped.  Unlike high school, Blue Band "geeks" are suddenly cool," Dylan said.  "When you tell someone in your lecture class that you're in Blue Band, the typical response is 'The Blue Band? Oh my God I love the Blue Band!' We are undoubtedly the biggest representatives of school spirit at Penn State and because of that we are ambassadors of our university.  We say all our performances are 'For the Glory of the Old State' and always strive to perform our best because not only does it reflect on us, but on our school."
No doubt, Dylan and the Blue Band have been a part of some huge football games. And for him, a few come to mind.
"From a football standpoint, Sam Ficken hitting the game winning extra-point in overtime to beat Boston College in the Pinstripe Bowl at Yankee Stadium was amazing," Dylan recalled. "The NCAA lifted the bowl ban that year so everyone was hoping for a win and a good end to Sam Ficken's career, and we got both.
"From a band stand point, the whiteout against Ohio State (in 2014) is the most memorable because at halftime we performed a 'channel surfing' show of different TV theme songs.  The finale was Game of Thrones, and during this our formations on the field were two characters sword fighting.  It was awesome to hear the sell-out crowd go silent while they watched us."
"
I'm excited to see how his Bellwood-Antis experiences have lead him to greater things."
— Mr. Sachse
It's not easy getting into the Blue Band; it takes a lot of hard work, but his experience at Bellwood helped Dylan prepare for the effort.
Mr. Sachse, Dylan's high school music teacher, said that he was an intelligent and dedicated band member.
"I'm excited to see how his Bellwood-Antis experiences have lead him to greater things," said Mr. Sachse. "As Music Section leader, his training in the Penn State School of Music will be a great asset to the Sousaphone section."
"At Bellwood I participated in both concert band and marching band all through my years of school," Dylan said. "I switched to playing the tuba before marching band in tenth grade and those three years helped me prepare for the Blue Band audition. Without middle school and high school band I wouldn't have been prepared."
Mr. Sachse said the experiences Dylan is getting in the Blue Band will sow rewards for the rest of his life.
"I performed with the Blue Band in 2001, and it was an incredible opportunity to show support for PSU football and work with amazing professors and peers," Mr. Sachse said. "The three-a-day practices during summer and the 20 hours a week commitment during the semester were intense, but worth every second."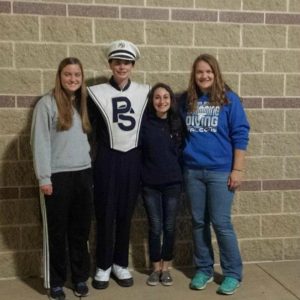 Dylan said one experience during his junior year at B-A lit the fire that led him to Blue Band. He was at Penn State's Eisenhower Auditorium for Bandorama and heard the Blue Band play live.
"Mr. Sachse does a great job with Bellwood's band, but there were only around 30 people in our band I was the only tuba player," Dylan said.  "The Blue Band had closer to 300 people so hearing a group literally 30 times bigger than our group all playing together, I felt like a kid in a candy store!  When I got home I said, that's going to be me.  I wanted to make other audiences feel the way I did, absolutely amazed."
Even though Dylan might attend a grad school for performance after his undergraduate work ends in 2018, he plans to teach music after he someday.
If anyone is interested in seeing the Blue Band in person you can check them out at home football games at Beaver Stadium in State College, or at this year's Bandorama (the concert that inspired him to join). It is on November 4 at Eisenhower Auditorium.  Tickets are on sale now at the Eisenhower box office or in the PSU Center for performing art's website.