Picking the perfect Halloween get-up
Simple tips for selecting a costume that's just right
In the timeless classic, It's the Great Pumpkin Charlie Brown, Lucy, Charlie Browns biggest critic, states that a person should choose a costume that directly contrasts to his or her own personality.
That's a solid piece of advice for picking a costume, and we will take it a step further to help any B-A student planning to dress up on Thursday for Halloween. All students in the high school have that option as part of Spirit Week.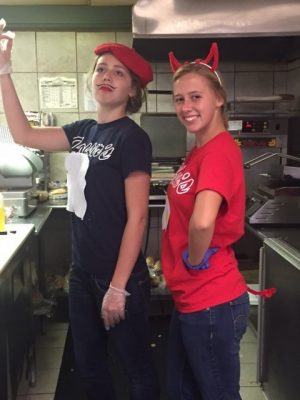 Here are the BluePrint's simple DO's and DON'T's for picking the perfect costume.
DO:
Look at what is popular. Everyone knows that a ghost is so cliche and unpopular, and then be original in your costume choice. You could try anything from a Pokémon Trainor or a member of the USA Woman's Gymnastics team.  Make sure your costume is original and unique.
Make your costume stylish and one-of-a-kind.
Express yourself through your costume. Every costume has a story behind it. No matter what anyone thinks, be yourself in your costume. Whether you make your costume from scratch or spend $500, it needs to mean something to you or it will be boring.
DON'T
Don't to pick a cumbersome costume. You want to ensure that you can move around and have fun at the party. No one wants to party with a sweaty mess! Be smart with your costumes!
Don't double-up on costumes with somebody else. When people are giving out their candy, or partying, they don't want to see the same old boring costume twice.
With these simple tips, you can pick the best Halloween costume with ease!