iPads come to B-A
Students receive mobile devices to enhance learning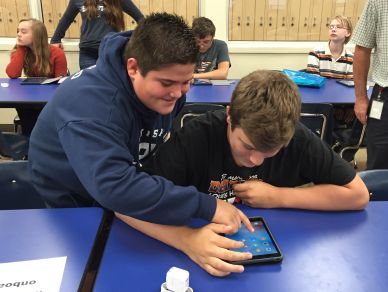 The day students were anxiously waiting for has already come and gone; the day the iPads were released to students. The iPads were released to 7th and 8th grade students on Monday, September 17 and were released to the 5th and 6th graders on Tuesday, September 18.
Every student in the Bellwood-Antis School District received an Apple iPad Mini 2. Our school's iPad Mini 2s came in the Space Gray color and have a 32GB storage capacity. The district has taken the time to install all the productive apps a student will ever need on the devices. These apps include iMovie, Garage Band, Keynote, Pages, and all of the Google programs including Slides, Docs and Drive.
The iPads bring infinite capabilities to the classroom. Teachers have already begun to put the textbooks onto the iPads, meaning that students won't have to take home as many books. With educational apps such as Classroom and Nearpod preinstalled on the iPads, teachers can create interactive lessons and presentations. With the addition of an Apple TV in every classroom, students and teachers can display their iPad screen onto the projector screen to show their work.
The setup and distribution of the iPads in the middle school went really well overall. With the help of Ms. Forshey, Mr. Lingenfelter, Dr. Wagner, and other middle and high school students, the setup process was made simple for most kids. Students have the responsibility to make sure their iPad has a full charge for the next day of school.
Students will keep the iPad they have for the next four years, and after that, the iPads will be returned to Apple.
It will be interesting to see how the teachers incorporate this exciting new technology into the curriculum this year, and hopefully for many years to come!
Leave a Comment