B-A grad Miller excelling in Army ROTC
Bellwood-Antis students graduating and having success at the college level isn't anything new, but for 2015 graduate Tyson Miller it's different because he has used college to also serve his country.
Tyson is a part of Slippery Rock's Army ROTC, (Reserve Officers' Training Corps) for the second straight year.  Recently he helped Slippery Rock successfully compete in the 2016 Ranger Challenge competition.
"I really enjoyed competing in the ranger challenge the past two years because it gives you the chance to test yourself on some of the skills you learn through ROTC.  And it's really cool that a small school like Slippery Rock gets to compete with schools like Penn State and Pitt,"  said Tyson.
Tyson and the other six members of the program have received Ranger Challenge tabs, which are awarded annually to Reserve Officers' Training Corps cadets who compete in regional ROTC Ranger Challenge competitions, and certificates for successfully competing in the 2016 ranger challenge competition at Fort Dix, New Jersey.
"At the end of the competition you get a little Velcro tab that you can wear on your uniform that says Ranger Challenge.  Having that sets you apart and makes you more competitive when it comes to earning the job you want in the Army once you graduate," Tyson said.
The team drilled against 44 other squads in several events, including a five-mile foot march, squad paintball, a combat assault obstacle course, machine gun crew drills, tug of war, and a wounded soldier match.
Tyson has been on many teams and has been a leader for those teams many times, including his time as a Blue Devil football captain during his senior season.  The ROTC program allows him to continue to be a part of a successful team.
Tyson is a safety management major who was one of the seven members representing Slippery Rock.  He also traveled to Africa over this summer for cultural training and he completed CIET- which is the cadet initial entry training for somebody to get into the ROTC senior program.
"
Most people don't realize how much better we have it here."
— Tyson Miller
"Africa was awesome," said Tyson.  "I was in Liberia on the Western Coast of Africa.  It was a great experience that let me see and interact with people I might not have otherwise.  I also got a new understanding and gratefulness for living in the U.S.  Most people don't realize how much better we have it here."
Bellwood has definitely been a major factor in getting Tyson where he is today because of the expectations of the school and the community.
"Bellwood has a reputation because the work ethic you develop growing up in Bellwood isn't very common in other places, so you have a big advantage right there," Tyson said.  "Plus everybody wants to see you succeed, so as long as you put in the work and make the right choices you always have the support system back home!"
There's no doubt that the Ranger Challenge was tough, but Tyson knows to be successful he will have to face similar challenges in the future.
That's one reason why Tyrone's mother, Karenn Miller, is such a strong supporter of the ROTC program.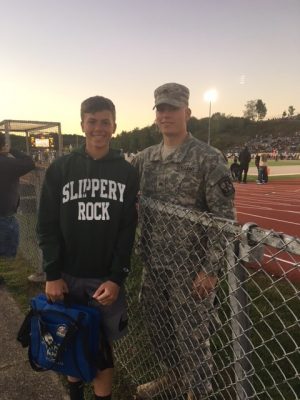 "Tyson has set goals for his future in the Army," she said.  "He knows that excelling in the ROTC program will help him in meeting those goals in the future."
Alongside Tyson, his girlfriend Taylor Payne,a Bellwood-Antis grad in 2013, and Matt McMillan Bellwood, who graduated in 2015 have, competed in the Ranger Challenge.  Taylor's team came in fourth place this year. Another B-A grad, Emilee Astore, is involved in ROTC at Lock Haven University, although she did not do the Ranger Challenge.
Mrs. Miller said it's a program more students should take advantage of because of all it offers. But those joining need to recognize the responsibility it brings.
"I would definitely recommend the ROTC program," Mrs. Miller said. "It is a huge commitment, and it is not to be taken lightly.  From a mother's standpoint there is always a worry for where he could end up and what he could be doing.  Tyson has such a drive to serve for our country and I can only be extremely proud of him."