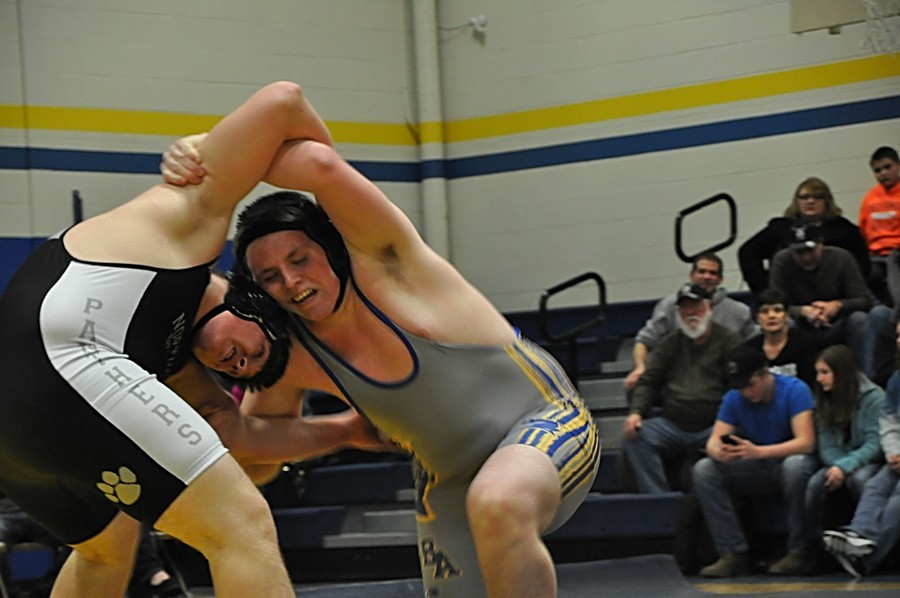 Phoebe Potter
There is work to be done for the varsity Blue Devil wrestlers this season after suffering through a tough season in 2015-2016.
The senior group looks very promising this year as result of the work they have put in the offseason.
Transfer Mike Cherry, Ryan Kerns and Noah Schratzmeier "have all spent numerous hours on the wrestling mat since the conclusion of last season," said head coach Ron Wilson.
This season the team won't have to worry about filling the lineup as much because of the increase in wrestlers on the squad. Many matches last season were over before they started because B-A mathematically couldn't keep pace with points.
"Last season, we frequently forfeited as many as six weight classes," said Coach Wilson. "This years team should be able to cover all of the weight classes except possibly one after everyone gets to the weight classes where they should be competing."
This year's team has a good balance of experience and youth, with a lot of work ethic. The seniors are strong role models and the younger wrestlers work to get better every day, Coach Wilson said.
The main concern for the Devils this season is to get everyone to the weight class they should be at, but the future of the team looks bright.
"If we can get everyone at the weights they should wrestle, we will be consistently competitive," said Coach Wilson.
Coach Wilson believes that there is a significant amount of potential at the junior high level.
VARSITY ROSTER
Seniors–Mike Cherry, Ryan Kerns, Noah Schratzmeier
Juniors–Aaron Bowman,  Malacki Harper, Bailey Kudlaweic, Kaylob Tatsch, Nick Watters, Collin Younker
Sophomores–Dominic Faith, Colton Gority, Derrick Noonan, Trentin Whaley