After graduation, it may be difficult to find out who you are going to be at college. Your attitude, your looks, or maybe even the clubs or activities you participate in could change.
For two B-A alumni, they decided that they were going to try a new sport.
This year, Bellwood-Antis alumni Alayna Roberts and Christina Kowalski began participating in sports not traditionally available in high school and they've developed a passion for them.
Alayna, B-A class of 2015, began playing women's rugby for West Chester University in August.
"I started playing because two of my friends in ROTC play and they told me I should try it. It seemed like something I could get the hang of," said Roberts. "I loved sports in high school so I wanted to be on a team again and practice to stay in shape."
Christina, however, went a different route, joining the women's rowing team for Robert Morris University.
"You don't have a position in rowing, you have a seat and it changes all the time based on what the coach thinks will make the boat go faster. If you start at the bow of the boat you have bow seat (1) the whole way up to eight which is called the stroke seat."
While they sound glamorous, college sports pose an obstacle especially when it comes to time management.
"It's hard to balance sleep and social life and injuries and school and everything but athletes get priority scheduling. They offer a lot of services for us like study halls to maintain certain GPA's," said Roberts.
"Most days I wake up at 4:45 a.m. to catch the 5:10 a.m. bus to practice. The team gets back around 8:30 a.m. and after that everyone is doing their own thing whether it be napping, studying, or class," said Kowalski.
Much like high school sports, the physical toll on an athlete doesn't let up once you get to college.
"Rowing has pushed me to my absolute limit, but it has made me a better person. I've had some of my best and worst experiences at practice, but I wouldn't trade it for the world," said Christina.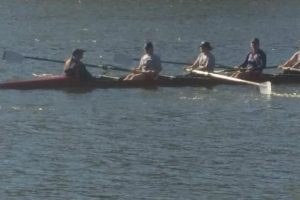 "After my first game I felt like I got hit by a bus but you get used to it. We have a specific group of athletic trainers that come to every practice and every game so they take really good care of us," said Kowalski.
Roberts and Kowalski, who once played on the same soccer team in high school, take the changes in stride and enjoy the surrounding elements of the sport.
"We played some big teams. When we played Penn State it was definitely a 'this isn't high school anymore' kind of moment. They're the best in the country so that's cool and intimidating. We travel a lot further, like up to Connecticut and Massachusetts for some away games,  and it's just more intense," said Alayna.
For Kowalski, the rowing team has given a sense of identity.
"The team has basically become my family and I'm so lucky to have them all," said Christina.