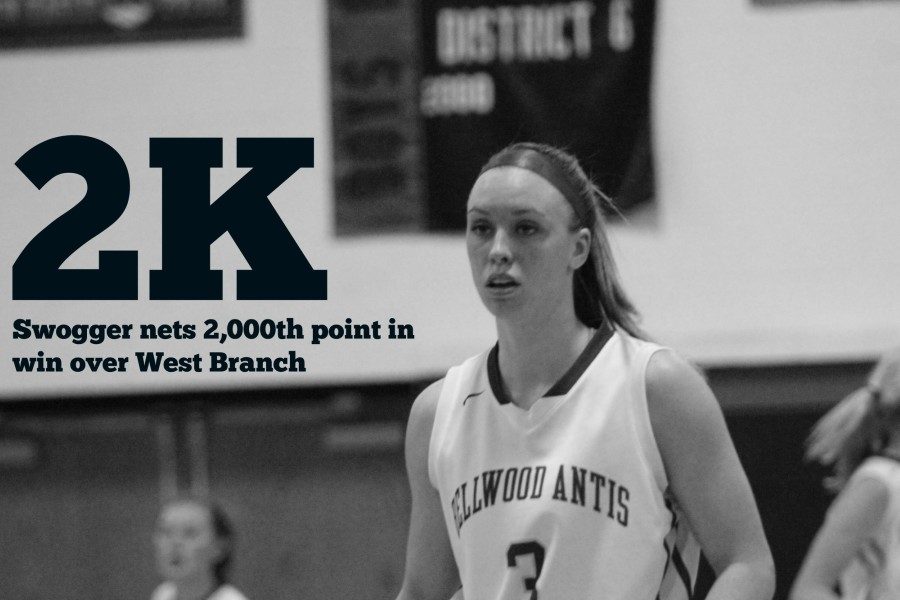 File photo
The Bellwood-Antis Lady Blue Devils defeated West Branch 84-23 on Friday, behind a record-setting performance from senior Karson Swogger.
The Lady devils are now at a record of 8-2, and 4-0 in the ICC.  B-A came out strong, ending the first quarter up 31-10, and there was no turning back.
Karson exploded for 34 points, 12 of those points coming from behind the three-point line.  She came into the game needing only 23 points to reach 2,000 for her career, and her 34 points makes her the fifth person in Blair County History to reach 2,000, the second from B-A. Nathan Davids reached the mark last season.
Claysburg-Kimmel's Blair County record of 2,181 points now appears well within Karson's reach.
"Karson is and always has been a very gifted basketball  player," said Coach Jim Swaney.  "She is so strong with the ball and a great shooter.  Karson has worked very hard in her high school career to become the complete player she is today."
B-A's stifling defense held West Branch to 0 points in the second quarter, 5 points in the third quarter, and 8 in the fourth.  The 84 points is the second most points the Lady Devils have scored in a game this year, and they have now won seven games in a row.
Alli Campbell also dropped in 11 points, Makala Carles had 10, and Riley D'Angelo helped out with 8.
"I am very excited to see how far this team can go.  We know that there are people who doubt us, but as long as we as team, believe in each other and do not allow the outside noise to change our course, we will reach our goals," said Coach Swaney.
The Lady Blue Devils next game is tonight, January 9, against a 3-6 Mount Union team.