FFA receive honors at Farm Show
The members of the Bellwood-Antis FFA will be attended the Pennsylvania Farm Show in Harrisburg on Monday, and while there 4 seniors were awarded the Keystone Degree.
Six freshmen were presented their FFA jackets.
The seniors awarded the Keystone Degree were:
Noah Schratzmeier
Tom Whiteford
Abie Boutiller
Mike Cherry
To earn the Keystone Degree you have to be a four-year member and log 300 hours of work outside of school or earn 1,000 dollars of productivity earned or invested. The Keystone Degree is the highest level of degree that can be awarded.  According to FFA Teacher Mr. Matthew Webreck, about 1 in 10 FFA students will get this award.
"It means a lot to get this degree. It shows four  years of hard work and there is a lot of pride knowing that you are a part of a statewide group," said Tom Whiteford.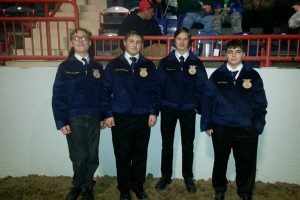 Though all freshman received their jackets, six freshman were able to earn a free jacket by meeting several requirements. They had to fill out an application and send it to a board to determine whether a free jacket would be given.
Freshman receiving a free jacket were:
Dakota Lafferty
Braden Hornberger
Noah Martin
Kalob Lucas
Ethan McLaughlin
Sebastian Guyer
"It was an awesome experience," said Braden. "We lined up around the stadium and let us put on our jackets. A lot of people were cheering. It means we are taking on the responsibility of being an FFA agriculture students."
Sebastian said there is a lot of symbolism in the FFA jackets.
"It symbolizes farming," he said. "One color of the jacket is natural blue, and the other is corn gold. We also got a tie that says FFA."