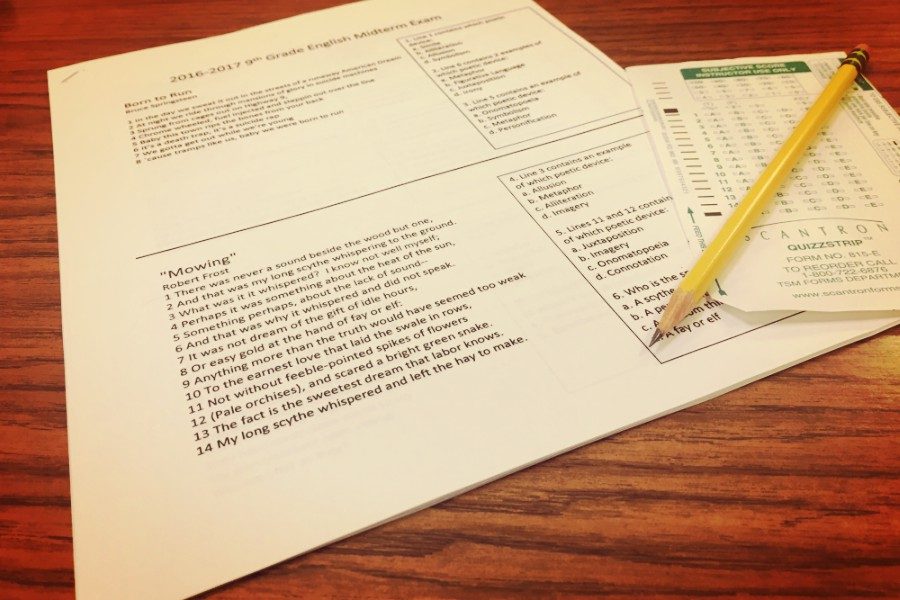 Jarrett Taneyhill
Stress can be felt in the halls of Bellwood-Antis High School as it is once again time for students to complete their midterms.
"I have three today and it is very stressful," said senior Karson Swogger.
Midterms are a test that students take halfway through the year. The test covers all of the material that has been taught throughout the first semester, and it is worth 10% of a student's grade.
"The midterm is a method to help prepare high school students for college, if that is the route that they choose to go. It is material from the beginning of the year to the midway point and it's an effort to get kids to realize that when you move on you're not going to be tested on just one chapter or just one section, but a large amount of content," said Principal Mr. Richard Schreier.
Some feel that the test should not be worth so much of a student's grade.
"I think 10% is too much because we have a life outside of school," said senior Lindsey Southworth.
Others feel that there is enough to balance out the test score.
"As long as you do well in every other aspect of the class you could afford to take an L on a midterm," said senior Grace Misera.
Knowing that students can get stressed at this time of the year, teachers try to help students out by notifying them of the test ahead of time and giving them study tools.
"There is a lot of content on the midterm. Students should keep notes and study guides from the beginning of the year and use those for review. They should continuously review the material over time so they aren't cramming at the last minute," said Principal Schreier.
Mr. Schreier also gave the students and teachers of B-A praise for working together on scheduling midterms.
"We didn't specifically write a schedule this year because I wanted to make sure that the teachers were reaching an appropriate end point on their units or chapters. But I also didn't want the students to become overwhelmed by having more than three tests in a day. I think it has worked, the students and the teachers really worked well together," said Mr. Schreier.