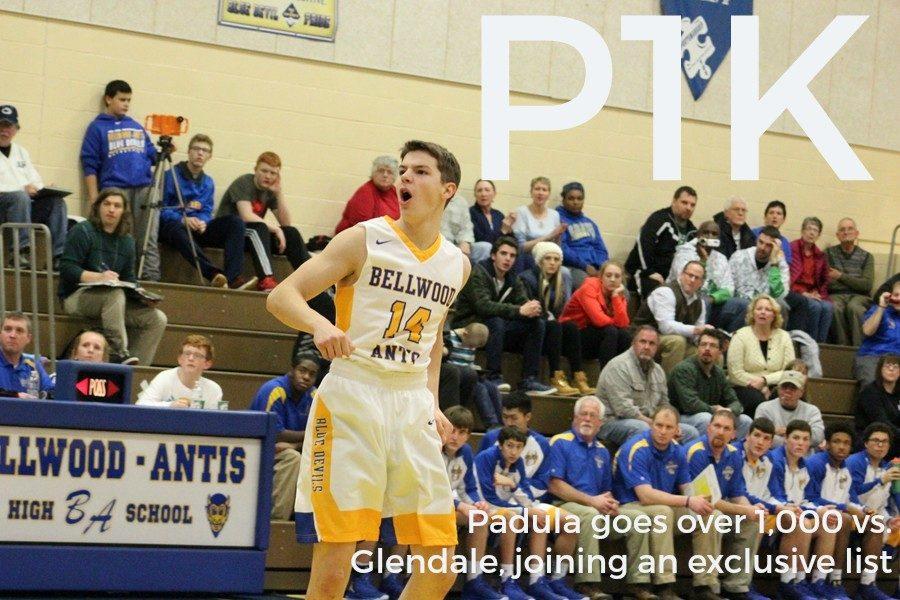 Ali Wagner
Joe Padula joined an elite club of basketball players last night in B-A's win over Glendale.
Padula scored 11 to surpass 1,000 points for his career as the Devils dominated Glendale 75-47.
Understated as always, Padula said it"feels pretty good… it's an accomplishment that I'm proud of."
Joe becomes the eighth Blue Devil to to score 1,000. Also on the list are all-time leader Nathan Davis, who scored more than 2,000, Noah Davis, Coach Brent Gerwert, Steve Conlon, Kevin Conlon, Randy Geis, and Ryan Myers.
Coach Gerwert said the 1,000-point milestone is a special one.
"Being a 1,000 point scorer is quite an accomplishment.  It is not only an accomplishment for the player achieving it, but also for his teammates," he said.  "However, it is still up to that player to put the ball into the hoop.  In order to do this, a player must be devoted to working on his offensive game in the offseason.  Joe has definitely put time in the offseason working on his offensive game and shooting a number of shots."
Coming into the season Joe wasn't worried about scoring points.
"I was more focused on winning as a team, and if a thousand points came it came, but that was never really a focal point."
Joe's career started slow, with him scoring just 56 points as a freshman. He increased his output every season, rising to 9.6 points per game as a sophomore, and 12.6 last season.
Joe is currently scoring more than 16 points per game for the 15-5 Devils.
Coach Gerwert said Joe's numbers reflect well on both Joe and the program.
"In my 9-year tenure, I have had three 1,000 point scorers.  This is great for the program because it sets a bar for younger basketball players to want to achieve," said Coach Gerwert.  "The only way they will do this is to develop their game in the offseason, as many of my current and former players do/have done.  Although I have had three 1,000 point scorers, I have had many scorers who have ended with between 750-900 points. This shows how much hard work and determination the players of the program have on getting better, which in turn creates good teams that earn many wins and a winning reputation."
While the night belonged to Padula, freshman Travis Luensmann actually led B-A in scoring with 13. Sophomore Nathan Wolfe added 10.
The Devils played a tight first quarter, leading just 13-9, before breaking the game open by outscoring the Vikings 27-7 in the second.