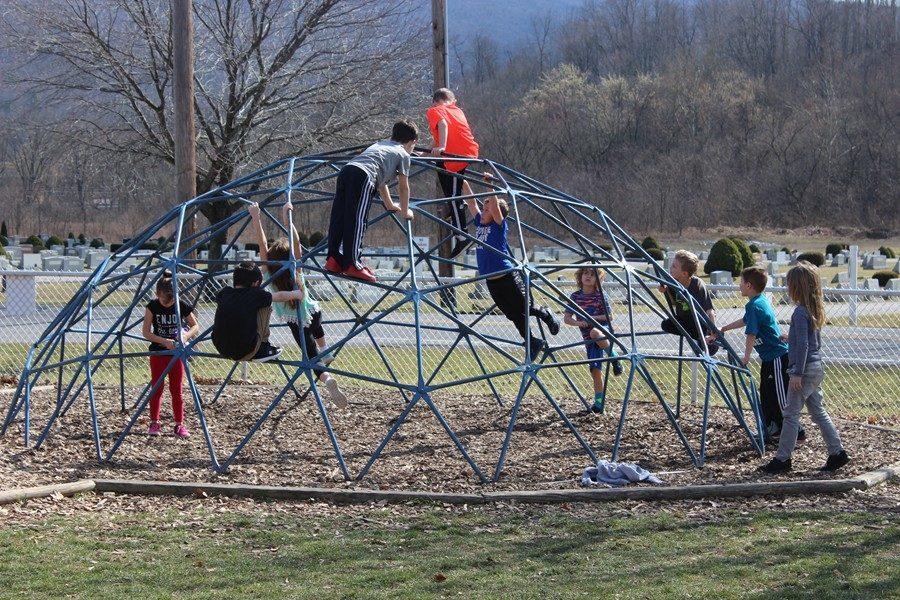 Riley Amerine
A students forgets his/her homework and is unprepared for class. Should the teacher make the student do the work during their recess time?
According to SHAPE (Society of Health and Physical Educators), teachers should not punish students during their recess time.
Studies show that if you let kids run around and get away from their school work, they improve their work habits and they learn more after they get to let all their energy out.
Only eight states have policies that require their schools to have recess, according to last year's Shape of the Nation report, but it's an important part of the school day at Myers.
Fourth grade teacher Mrs. Ruda Burns said, "Students need that time to get away and be themselves. They need to let out all their energy."
One important factor for schools is to designate spaces for indoor and outdoor recess. Without a designated indoor space, when it rains, teachers will have to cancel recess and not have it that day.
SHAPE also says teachers should never use recess as a punishment because it deprives students of physical activity – which can be a much needed outlet.
"The student shouldn't be punished more than five or ten minutes," said Mrs. Burns. "They only have 30 minutes of recess time, so if you take 20 minutes of that away then the child doesn't get to let his energy out and run around."
Fellow fourth grade teacher Mrs. Allison Clabaugh said, "I don't think students should get all 30 minutes of their recess taken away because of punishment. But I think since they are elementary kids, they still need some sort of punishment for them to learn from."
A concerns at some schools, especially in low-income neighborhoods, might be whether a structured recess program would require a lot of expensive equipment.
That's not the case. Michelle Carter, Director at SHAPE, says, "If you have a place for them to go and you have adult supervision and this plan in place, you can have recess for students."
Research has shown that play helps students pay attention in class, prevents bullying, and develops social and emotional learning.
Mrs. Clabaugh believes that recess should definitely be a must-have for Elementary students.
"I think students should be able to have that brain-break for them to relax and get away from their studies," she said.
Kindergarten teacher, Mr. Plummer, has the same mindset.
"If you let the kids go outside, they learn to play together and build skills that make the kids get closer to each other," he said.
Mr. Plummer said recess is a tremendous tool for building many life skills skills.
"Recess builds kids problem solving skills, team building skills, and their physical skills along with a lot of other skills that help them develop during the school day," he said.