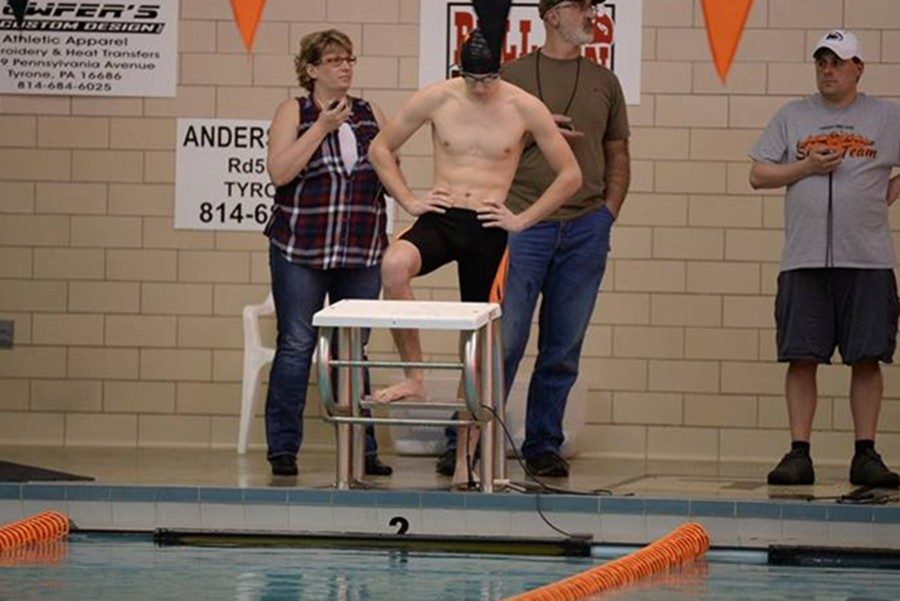 Terry NCCaulley
Bellwood-Antis's Brendan Kowalski is a tri-athlete who had a record breaking football season. He became the school's all-time leading receiver with 928 yards for his career, and had the most receiving yards in a single season with 750 yards.
During his senior year Kowalski realized that he didn't want to have any regrets after graduating, so this winter Brendan decided to do something he has never done before when he went out for the Tyrone-Bellwood-Antis-Bishop Guilfoyle swim team.
"Swimming seemed like something fun to try. I didn't want to not swim and then regret it," explained Brendan.
During his first season Kowalski did something no one expected him to when he qualified for districts in the 50 meter freestyle with a time of 25.51.
At Districts Kowalski finished 16th out of 34 swimmers that went to the district meet.
"It was pretty cool to make districts my first year swimming. I was really excited and couldn't believe I was able to accomplish this," said Kowalski.
With swimming now over, Brendan will turn his attention to his spring sport, which is baseball.
Last year for Kowalski was solid, playing great defense out of left field while hitting from the plate out of the leadoff spot for the team. He hit for a .275 average, scored 19 runs, stole eight bases, and most impressively had an on base percentage of .456.
Kowalski will look to carry over his successes from football and swimming to success in baseball, as he is expecting big things from himself and the team this season.
"I look to use my success in football and swimming as extra motivation to strive to play my best during baseball season. I expect our season to go very well, we are returning a lot of starters. It should be a good year with a playoff run," said Brendan.
Brendan and the rest of the B-A baseball team will begin their season March 24 when they take on ICC rival Juniata Valley in Bellwood.