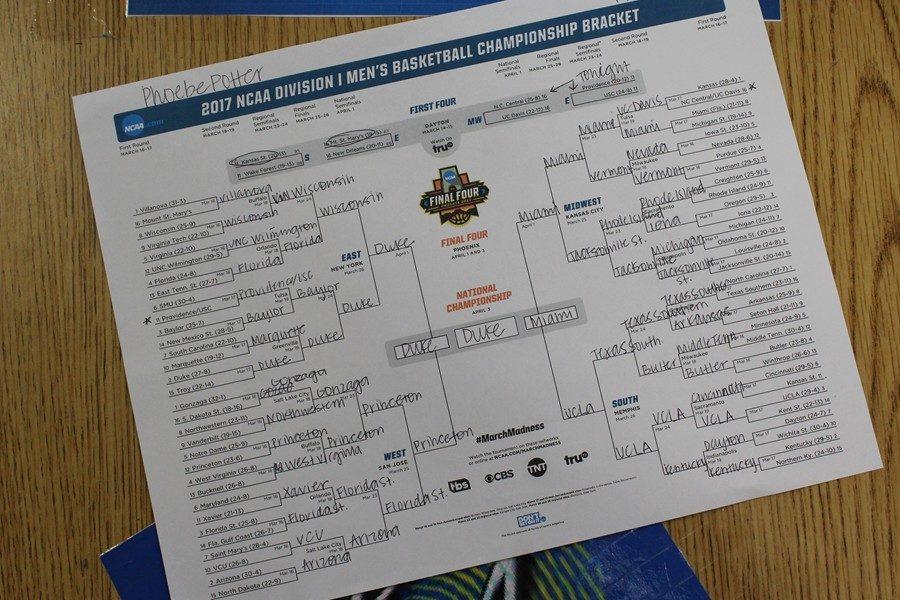 Kaelynn Behrens
Filling out a perfect March Madness bracket technically isn't impossible.
It is very, very hard, though. According to Forbes the exact odds you have to fill out a perfect March Madness bracket are 1 in 9,223,372,036,854,777,808.
Things that have you have better odds to do than pick the perfect bracket? How about becoming a professional basketball player, winning the Powerball jackpot, getting struck by lightning, shooting a hole-in-one, and winning a million dollars on Wheel of Fortune.
Even with these incredible odds, every year people around the United States fill out multiple brackets in hopes of getting the perfect one.  But considering the odds do amateur bracketologists have any better odds than the experts?
At the B-A Blueprint we experimented with different ways to pick the winners of each game including, better mascot, better road trip destinations, a simple coin flip, and picks based on basketball knowledge.
Phoebe Potter picked games based on the better mascot, which featured an 8-seeded Miami playing second-seeded Duke in the Championship game. According to Phoebe, Duke wins a battle between Devils and Hurricans.
Phoebe also picked that a 16seed-would beat a one-seed for the first time in the history of college basketball when she picked Texas Southern to upset North Carolina. Tigers eat Tar Heals.
Jarrett Taneyhill filled his bracket out by the flip of a coin.  As you could expect his bracket contained a lot of upsets: two 16-seeds upsetting one-seeds in the first round, and a final four with an 11-seed, a two-seed, a 10-seed, and a 13-seed.
Jarrett's 50-50 bracket has USC beating Winthrop in the Championship.
Myranda Mamat picked who she thought would win by where she would rather go on a road trip.  Myranda had a final four with Wisconsin, Arizona, Texas Southern, and Michigan State, with Arizona winning it all. Early spring in Tucson easily beats out April in East Lansing.
I filled my bracket out based on my basketball knowledge.
I feel the ACC is the best conference in basketbal, and I think they will prove it by getting three teams into the Elite Eight.
To me, number one seed Gonzaga is overrated, and they play in a weak conference. They will meet Notre Dame from the ACC in the Sweet Sixteen and get knocked out earlier than many think.
Oregon is another common pick to win it all but with the injury to last year's defensive player of the year, they lose in the Elite Eight.
I think two-seed Duke beats Arizona in the Final Four and plays another two-seed, Kentucky, in the championship, but the firepower Duke has been playing with lately is too much for Kentucky. Duke will win it all.
The BluePrint will keep you up to date with the results of our staff members' choices throughout the tournament.