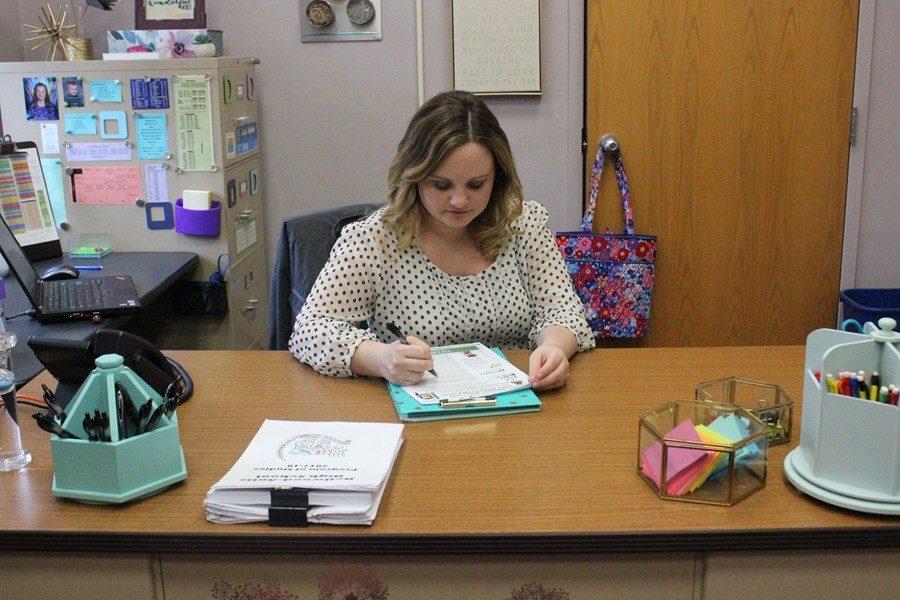 Julie Norris
New guidance counselor Ms. Dani Patton is excited to start her new journey here at Bellwood and to help students begin their own journeys.
She officially started her career at Bellwood last Tuesday March 21, replacing Ms. Kathy Butler, who is now the guidance counselor at Altoona Area School District.
Ms. Patton has a positive attitude towards Bellwood after growing up and going to school here.
"I grew up and went to school in Bellwood. I've always had such positive memories of the education that I received and the community as a whole," said Ms. Patton. "When I became a school counselor, I knew it would be my top choice if I ever had the opportunity to work for the district."
The school alone isn't the only thing on Ms. Patton's mind; she is looking forward to getting involved with the community, as well.
"I look forward to getting to know all the students and helping them in any way that I can, especially when it comes to achieving their personal, academic and career goals," said Ms. Patton. "I also look forward to being active in both the school and community."
Assistant Principal Mrs. Cathy Adams, who assumed many responsibilities of a guidance counselor this year, had this to say about Miss Patton.
"I think we are very fortunate to acquire her at this time of the school year. It gives me a chance to work with her before I retire, and introduce her to students she can work with next year," she said.
You can say that Ms. Patton has always had an eye out to teach and help people grow. Being a coach helped her choose the career she has today.
"I had the opportunity to coach and it helped me realize how fulfilling it could be to help an individual grow and reach his or her potential. I also think that career education is extremely important," said Ms. Patton. "Students need to explore what options they have so that they can make informed decisions about their future. I'm excited to assist them with that process."
Ms. Patton's goals here at Bellwood are straight to the point: to help students for their future.
"Overall, I hope to make a positive difference. I want to be a helpful resource for students. I also want to help to provide students with the knowledge and skills that will allow them to be successful both now and in the future," she said.
Ms. Patton has a few words to express to Bellwood-Antis High School.
"I love my career and am extremely happy to be working at Bellwood. I'm appreciative of the opportunity to collaborate with everyone – students, parents, faculty, staff, etc. – and hope to be a positive addition to the school," said Ms. Patton.