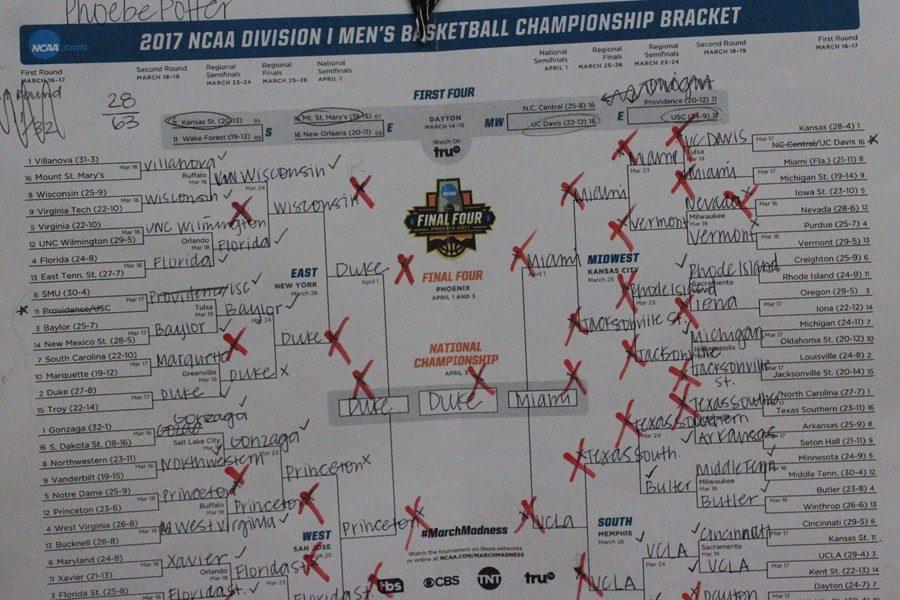 Bryce Graham
March madness is in full swing, and there have been many upsets worthy of busting the perfect bracket.
There are no longer any perfect brackets left. This shows you how insurmountable the odds of 1 in 9,223,372,036,854,777,808 really are.
Recently at the B-A Blueprint we had a few staff members fill out their bracket based on things like better mascot, where you would rather go on a trip, the simple flip of a coin, and basketball knowledge based picks.
Phoebe Potter filled her bracket out based on which mascot she liked better, and her Final Four contained Duke, a common pick that got upset in the round of 32, along with Princeton, Miami, and UCLA.
Jarrett Taneyhill picked his games by flipping a coin for each game. He has USC, Arizona, Oklahoma State, and Winthrop in his Final Four, and two of those teams were knocked out in the first round.
Myranda Mamat picked the games according to where she would rather go on a road trip.  Myranda's final four had Wisconsin, who beat Villanova in the round of 32 to cap off one of the biggest upsets of the year, Arizona, Texas Southern, and Michigan State.
I filled my bracket out just by picking the games on who I thought would win.  I had three of the eight Elite 8 teams correct, but none of the Final Four team's right.  I had Duke, Arizona, and Kansas in my Final Four, and all four teams came up short.
Oregon, Kansas, Gonzaga, and the unexpected Cinderella story of South Carolina are the four teams in the Final Four.  Only 657 brackets out of 18.8 million in the ESPN tournament challenge picked the correct final four.