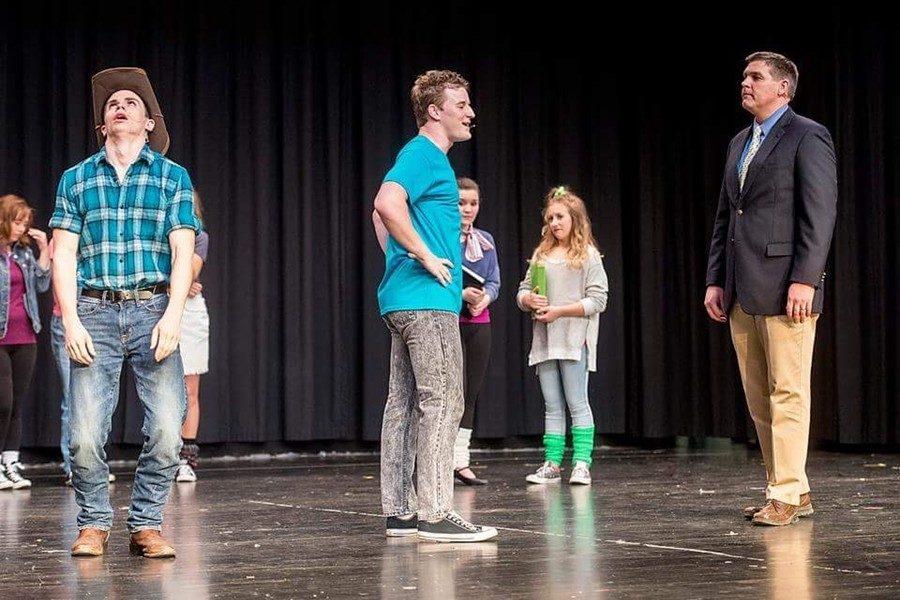 Manning Photography
Who better to play a high school principal in a small-town school than a real life principal from a small town school?
This is just one surprise for the play on Thursday through Saturday.
This week in the play Footloose, Mr. Richard Schreier, the B-A High school principal, and Ms. Carrie Clippard, the high school chemistry teacher, will be playing the cameo parts as the Bomont High School Principal.
Mr. Schreier will be playing the part of the principal on Thursday and Saturday and Ms. Clippard will be playing the principal on Friday.
"Ms. Hull approached me and asked me if I wanted to be in the play," Mr. Schreier said. "I thought it would be a great way to be real with the kids instead of just being in their classroom or in the office. I wanted to get out and experience what it was like to be in the play."
The opportunity gave Mr. Schreier a new perspective.
"It is an honor to be a part of this year's play, and it lets me see the hard work that the kids put into it," he said. "It gives me a better respect for them."
Sometimes even in big-name movies and plays there are cameos. In the movie "Star Wars: The Force Awakens," Daniel Craig played a cameo and the part he played was a Stormtrooper who was Mind-Tricked by Rey into releasing her and dropping his weapon on the floor.
Prior to that Daniel Craig was known for his acting in the movie "James Bond."