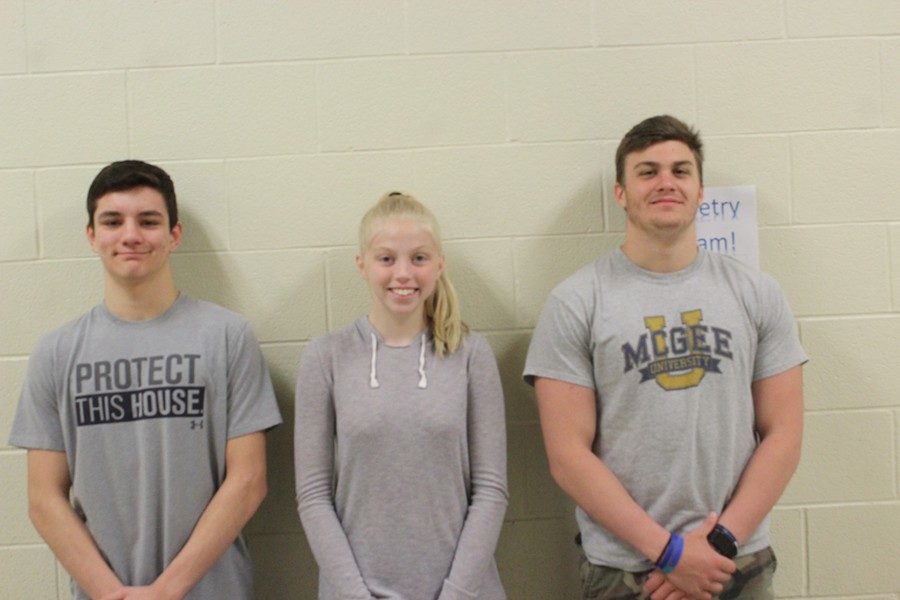 Bryce Graham
The Pa Press Club hots a communications contest every year for the school newspapers in Pennsylvania, and  many schools around the state put in entries in a variety of categories.
Bellwood-Antis came out with eight place-winners in this contest this year.
Video Editor Kaelynn Behrens received first place in two categories, and will advance on to nationals. She also received an honorable mention and a third place place.
Kaelynn's first-place finishes came for her feature video on the B-A band recruiting trips to Myers and for her sports video on Brandon Bickle playing in his first varsity basketball game.
She won third place in the talk show category for her College Corner segment and received an honorable mention in the same category for Dudes on Food.
Kaelynn is very happy for receiving this award.
"I can't even believe that I have received two first place rewards. It is extremely rewarding to see how my hard work on these videos is finally paying off," she said. "I am so thankful for everyone that has helped me progress in my video editing skills. The fact that my videos are going to be submitted in a national contest is truly a blessing."
"This is Kaelynn's first year in BluePrint, so for her to do the things she has done as both a writer and a video editor is pretty incredible," said advisor Mr. Kerry Naylor. "Her creativity and hard work on the video end has given our site a whole new look and feel this year, and it's been a blessing."
Other Winners included:
Sydney Patterson, who won second place in the news-writing category for her story "The T Stands for Trump."
"It feels really good to know that my writing matters, that I'm not the only reader," Sidney said. "It feels even better to know that out of all the writers in Pennsylvania I was recognized."
Senior Ethan McGee took two places, including honorable mention in the feature story category for his profile on Myers teacher Mrs. Kelly. It's the third time this year that story has been awarded in one contest or another.
"The Mrs. Kelly story is very meaningful. I have never heard of someone missing a body part and having such a successful athletic career," said Ethan. "It's an unbelievable story."
Ethan also won third place in the sports story category for his story on overspecialization in high school sports.
"It's a good feeling to have more recognition come to the site as a whole through these contests," said Ethan.
Freshman Julian Bartlebaugh, was awarded honorable mention in the sports category for his story on the Blue Devil water boys upholding the tradition.
This was his first writing award.
"I was surprised and I didn't expect it. This is the first time I have ever won a writing award," he said.
Mr. Naylor said the entire class is honored to be in the running for such awards.
"Every time one of our students is recognized for their work, whether it's by SNO or one of these statewide contests, it's an honor, and it shows how very hard our writers work," he said. "The winning entries always have something in common, and that is revision. They are stories that are good from the start, but are then re-worked over and over, and that's not easy.
"This is also a reflection of the wonderful stories that come out of our community here in Bellwod."