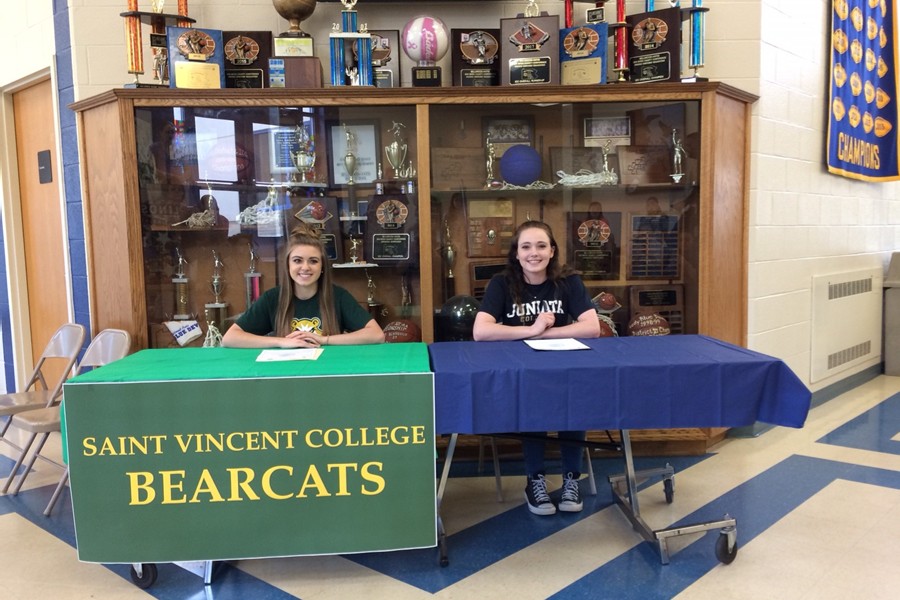 Alice Flarend
Two Bellwood-Antis senior signed on Friday to further their education and play sports in college.
Makayla Carles and Lindsey Southworth each signed letters of intent at a ceremony at the high school Friday.
Makayla signed with Juniata College, where she is going to play basketball and  further her education.  Makayla is very happy with her decision to go there,saying, "Juniata is a great college."
"The beautiful campus and the wonderful people I've already encountered at Juniata" helped Makayla make her decision even easier.
Makayla said, "No one really influenced my decision.  My family just wants me to go somewhere that I can be successful and happy."
B-A grads Katy and Kelly Leamer are on the team at Juniata, though Katie just graduated this spring.
The Lady Devil's past season was a very good one. The girls went far, losing to Bishop McCourt in the semifinals for the District 6 title before advancing to the PIAA final four.  But Makayla had a pretty good senior year, averaging 6.6 points per game in 30 games played, and ending her senior year with 198 points in her final season.
Lindsey Southworth, a volleyball player, signed with Saint Vincent College to play volleyball.
Lindsey said, "I am going to run every day and continue weight training over summer" to stay in shape and help her go into playing volleyball for a college even easier for her.
The Lady Devils went 16-3 last season, and Lindsey had a total of 63 kills, 63 sets played, and 139 digs.  Lindsey said she is very excited to be attending SVC and playing volleyball for them.
B-A alum Matt Jenkins recently concluded a successful football career at SVC.
The Bellwood-Antis community wishes both of the girls best of luck as they pursue their careers in college.