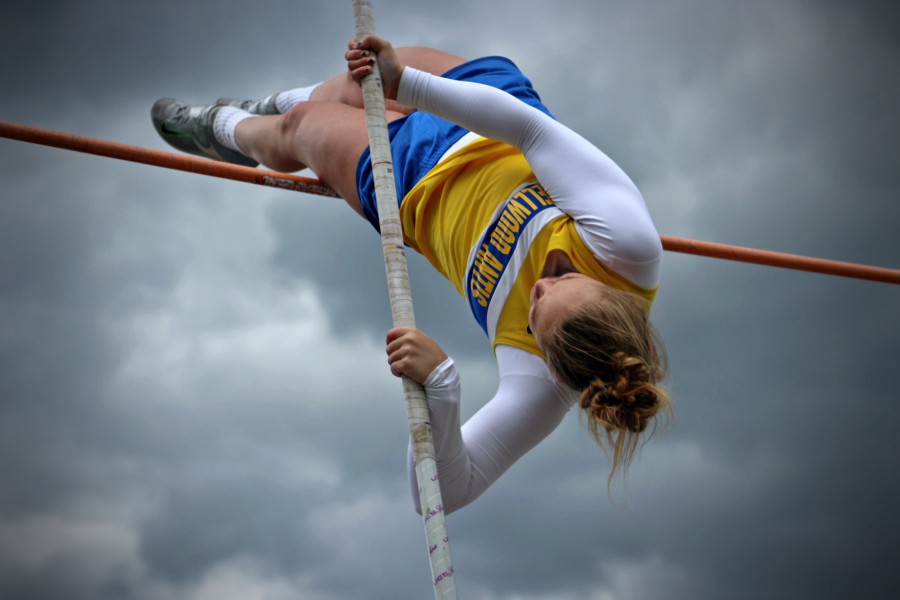 Phoebe Potter
At the 61st Bellwood-Antis Track and Field Invitational on Monday,  the B-A boys took second, falling to Tyrone, which won the team title 126-90.75 over the Blue Devils. The girls, although not finishing among the top teams,  crowned a champion and outstanding jumper.
Junior Alexis Gerwert continued to dominate thepole vault. Gerwert broke her fourth record of the year on her first attempt, getting 10-foot-7 inches at the event to establish a new meet record. The previous record was 10-foot-6, set by Northern Bedford's Hayley Paronish in 2009.
Gerwert wasn't completely satisfied with her performance.
"Unless I P-R at this point I'm not happy," said Gerwert, who broke her own school record two weeks ago.
The girls had six place-winners in all, including junior Kamryn Mercer, who was third in the high jump.
Gerwert and Clay Engle were named outstanding jumpers at the event, both taking first in their events.
Engle won the triple jump, leaping 42 feet-5 1/2 inches. He also third and the high jump and fifth in the long jump.
B-A's boys claimed 15 individual places while placing in two relays.
The Devils' throwers had second place finish from Braden Heisler in the javelin,  throwing 155-3, as well as Chris Wertman in the shot, who came in third, throwing 43-9.
Jarrett Taneyhill in the javelin, Tanner Worthing in the 200, and Shawn Wolf in the 400 were other top-three finishers for the Devils.