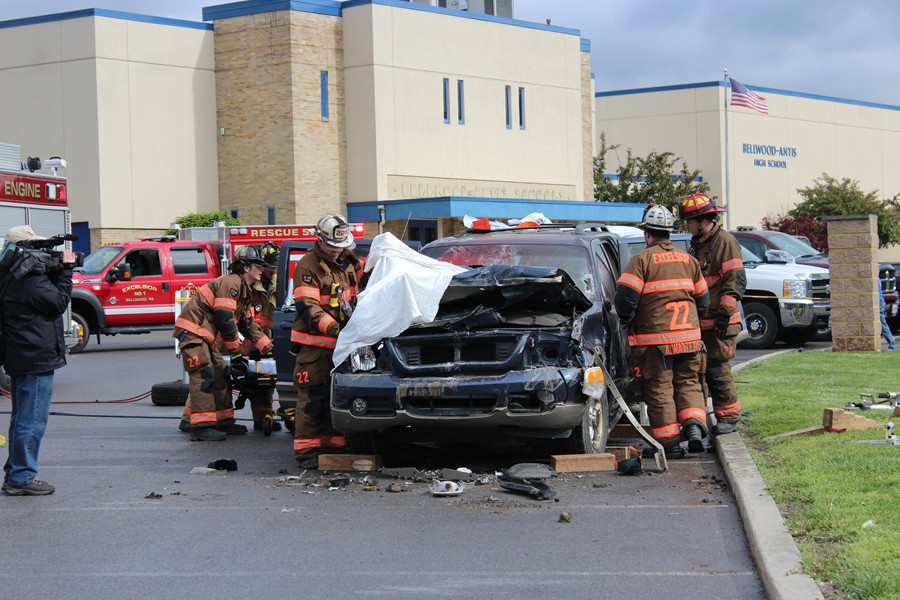 Kaelynn Behrens
On Wednesday, the Bellwood-Antis Excelsior Fire Department displayed a mock car accident to inform the students in grades 10-12 about the dangers of distracted or impaired driving.
The program started in the high school auditorium by introducing the Prom Promise. Then, attention was given to the fire department personnel as the program moved outside to the parking lot where the mock accident was located.
Health and Physical Education teacher Mr. Nick Lovrich said that the goal of the program was to show anything can happen. No only could accidents occur on prom night, but they could happen at any time.
"The main goal was for our students to see that accidents can happen to young people as well, because often young people think it won't happen to them, but it could," said Mr. Lovrich. "We want our students to think about the consequences that could possible happen if they make poor decisions when they are driving."
Excelsior member Tom Whiteford, the Bellwood-Antis Senior who came up with the idea, said that overall, the mock accident was a success.
"I feel that the event was a success for those who took it seriously," said Whiteford.
Tom and the Excelsior Fire Company came up with the idea because they wanted to do community outreach at B-A to help prevent accidents that they deal with.
"The STAR team jumped right on board because we thought that it would help our students make better decisions," said Mr. Lovrich.
Tom said that despite all the effort put in to the mock accident, some kids didn't take it seriously.
"While some students took the information provided seriously, I know that other students did not," said Whiteford.