A little glove in your heart
B-A baseball players have special relationships with their mitts
Just like the construction worker who bonds with his tools or the surgeon that feels connected to his scalpel, ball players bond with the tool of their job.
"Mitts share memories with you. Whether you caught a clutch fly ball or won a championship, it grows memories. You see it age and become old and lose its pop," said Sawyer Kline, a catcher and pitcher on the Bellwood-Antis baseball team.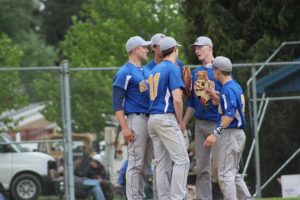 Not all B-A players remember their first glove, but they can remember at least one of their many gloves.
Kline feels a special connection between himself and his gloves.
"As a glove gets older it becomes more and more special. It has experienced things that others haven't. It gets its own experience," he said.
Things have changed over time since baseball Coach Steve Conlon arrived in 2003 in terms of players and their gloves.
"When I first started, most players had one mitt. The only player that had a special mitt was the first baseman or the catcher," he said. "Today, kids come with 2-3 different mitts in their bags. I have even seen kids that have a different mitt to play the field and pitch."
Many players treat and replace a glove when it is getting rough and dirty, feeling it is good to clean it off and make it just like it was when it was a new glove fresh out of the box. Others feel a mitt's job is to catch the ball, and if it doesn't get even a little bit dirty then you're not using it for its purpose.
Coach Conlon remembers how special his first top-of-the-line mitt was to him back in the day when he played.
"I remember when I signed to play at Shippensburg, my parents bought me a Rawlings Heart Gold Glove Series mitt," said Coach Conlon. "I know it cost them way more than they ever spent on a mitt before. I still have that mitt today. It lasted me through college and playing in the city league after college. I still use it when I play catch with my kids today."
Similarly, Blue Devil players know specifically what kind of glove they use. Freshmen Troy Walker and Travis Luensmann both use an infield mitt, but Troy also uses a catcher mitt.
"For infield, Wilson A200. For when I catch, Rawlings Gold Glove Elite," Troy said.
Seniors Kline, Nevin Wood, Jordan McCracken, and Joe Padula also know the glove they use while on the field playing the great game of baseball. Sawyer uses two gloves: one for catching and one for pitching. His pitching mitt is a Rawlings Trap-eze and his catching mitt is a Mizuno Franchise.
Joradn, an outfielder, uses a Rawlings Program Outfield Glove for center field, while Nevin uses one mitt for both shortstop and pitching, which is also a Rawlings.
"
Mitts share memories with you. Whether you caught a clutch fly ball or won a championship, it grows memories."
— Sawyer Kline
Many even remember their very first glove.
"My first mitt was hand-me-down Rawlings mitt from my brother that I used from tee ball to little league. It had a basket-web and it lasted until the cloth in the palm ripped," said Sawyer.
"I had an Adidas glove in little league," said Nevin.
Gloves share many memories with a player and they are very special to the players who use them for a variety of reasons.
"Gloves are special to players because it gives players a few aspects to the game," said Travis. "It gives you swagger. Looking around at the opposing players and seeing their gloves makes you wonder how cool you would be if you had the glove."
Troy feels the same way with his glove as well.
"Some are made with better material, some are simply just cooler, and some just have a great feel," said Troy.
Jordan feels that a glove can share memories the whole way through your baseball career, no matter what league you are in.
"Yes, me and my glove have been through everything together:  good games, bad games, errors, and good plays," said Jordan.