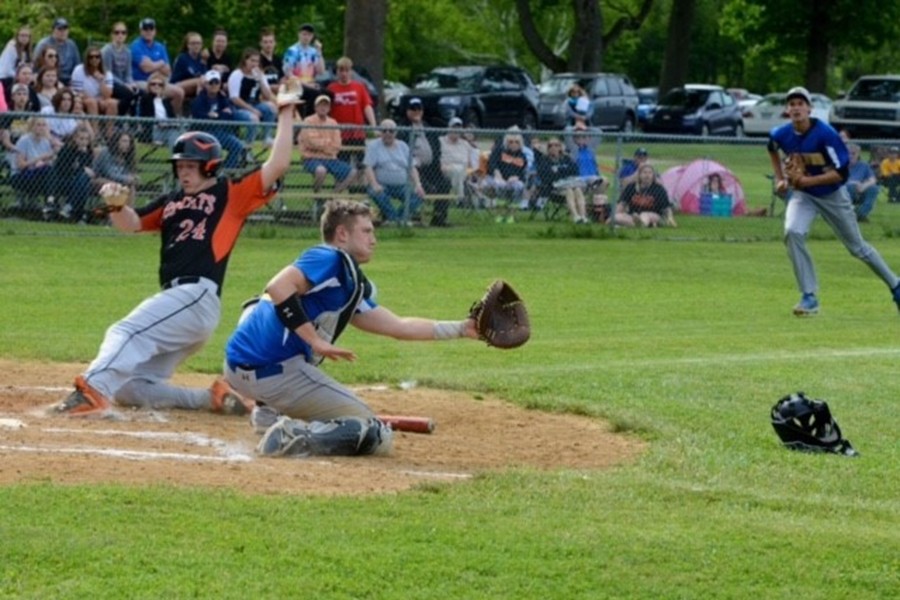 Manning Photography
After a first inning consisting of seven combined runs, the Bellwood-Antis Blue Devil baseball defeated Blairsville 12-5 yesterday in the District 6 2A semifinals.
The Devils punched their ticket to the District 6 championship game for the second time in three years.
There they will face Bishop McCort at PNG Field in Altoona on Friday at 7.
B-A came out swinging in the first inning scoring three runs, but a slow start defensively allowed  four runs in top of the first to No. 2 Bobcats.
These kind of quick starts from an opponent aren't something B-A is scared of.
"We just had to realize there's a lot of game left and we can't panic. We had to do what we had to, earning those runs back," said senior Joe Padula.
B-A quickly pulled started Nevin Wood in favor of freshman Travis Luensmann, and then they got back at it.
"It was a difficult decision to pull Nevin yesterday because he is our number one, but some days, a pitcher doesn't have his best stuff, and yesterday wasn't a great day on the mound for Nevin,"  said assistant coach Tom Partner. "Also, we knew that we had more than one quality pitcher ready to go, and Travis and Sawyer did a tremendous job getting the job done.  Sawyer has been a solid closer the past two games."
Luensmann got the win and Kline registered another save to close it down.
The mighty Devils were not fazed by being on the road, as they put up another two runs run in the third to retake the lead, and five runs in the fourth inning after Blairsville had tied it.
Padula was able to knock a one run single and the bases were juiced once Kline was walked. That led to Jordan McCracken smacking a single which brought around two runs for B-A. Two at bats later Junior Jack Showlater hit a two-run double himself.
Padula has found the killer instinct the team needed.
"In any situation we have to have confidence we can win. The way we play is  we don't think we can lose," said Padula.
Coach Partner said the way the team has hit the ball of late has been a real advantage in the playoffs.
"Our offense has been pretty consistent throughout the second half of the season, but to have a 17 hit-day in the district semi's is huge," he said.  "We told them that we need to be peaking at the right time, and yesterday was a perfect example of it:  a lot of quality at bats, two-strike hits, and multi-base hits, which you need at the plate."
Brendan Kowlaski came up huge for B-A, earning a single, triple, and scoring four runs to lead the Blue Devils to victory. Trent Walker was able to collect three hits and a pair of RBI's, as well as Sawyer Kline getting two hits and brought in two more runs.
Luensmann had  two strikeouts in three innings, while Kline closed the game for B-A, allowing no hits over four innings.
The Devils faced Richland in the championship game two seasons ago but lost in upset fashion 6-0. Kline, Padula, Wood, and McCracken were all starters on that team. Last year the group fell to Bishop McCort 7-5 in the first round of the playoffs.
"It feels good to get back to the district championship since sophomore year. It feels like we have unfinished business since McCort beat us last year," said Padula.
Coach Partner said the team is happy for the opportunity.
"It feels great to get back to the title game–our upperclassmen have played in some big games in their high school career and have won a lot of ball games, but unfortunately we have come up short," said Coach Partner.  "Therefore, we are very fortunate to have another shot at the D6 title!"