Top 10 sports stories of the year
Bellwood-Antis had an outstanding year in sports this school year, from football to tennis. Some people set records, some reached milestones, and others simply shined as bright as they possibly could. They all made it a memorable year for sports at B-A.
Here are the top stories from this season.
#10- Coach Gerwert steps down as hoops coach
Boys basketball head coach Brent Gerwert stepped down after serving 10 years as high school coach. In that time he took the team to two District 6 2A championship games, winning it all in 2016, while guiding B-A to three consecutive PIAA playoff berths in his last three seasons.
#9- Jarett Taneyhill dominates two sports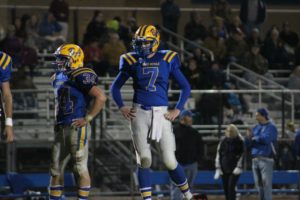 Jarett Taneyhill had amazing year in sports for track and football. In football he broke almost all of the passing records for BA, including passing yards in a season and career, and touchdown passes in a season and career. He helped lead the Blue Devils to the District 6-AA semifinals in 2016 and threw for more than 2,000 yards and 23 touchdowns.
Taneyhill signed with Lehigh University top throw Javelin early in the spring, and he threw 171 feet at the District 6 2A meet to establish a new personal best and claim second place. At Shippensburg he placed 14th At the PIAA championships.
#8- Boys track team gets to 500
Coach Lovrich guided the track team to its 500th win this season. The program started at B-A and in that time has earned 13 District 6 titles. In 2017 the Devils won their 21st conference championship, winning the ICC North and the ICC invitational. Coach Lovrich continues to lead the team with a 222-21-2 record.
#7- Baseball team advances to District title game
The B-A baseball  won 13 in a row and rushed to their second championship game since 2014, defeating Blairsville to earn a shot against Bishop McCort. While the Devils lost to the Crushers 5-3, they still advance to the PIAA 2A playoffs in seek of their second state championship.
#6- Tina Hollen named Mountain League MVP
Tina Hollen won MVP this year in tennis for the second year in a row. Her sister Ana, now playing basketball at UPJ, was also a Mountain League tennis MVP.
#5- Coach Wilson reaches 100th win
Head wrestling coach Ron Wilson won his 100th match win the 2016-17 season. He stepped down at the end of the season and was replaced by Tim Andrekovich.
#4- Brandon Bickel makes the shot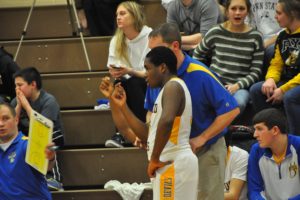 Senior Brandon Bickel, a part of the B-A basketball team since junior high, made his varsity debut in January and scored a basket in his first game.
Bickel, who was diagnosed early in life with autism, had been a team manager for all of his varsity career after playing on the junior high team.
Videos or Brandon making his big basket again West Branch quickly went vial, with one achieving hundreds of thousands of views on Bleacher Report.
#3- Senior Joe Padula scores 1,000 points
Joe Padula reached a career milestone of scoring 1,000 points against Glendale this past season. He averaged 15 points and 10 rebounds for the season as the Devils reached the PIAA playoffs.
#2- Gerwert dominates pole vault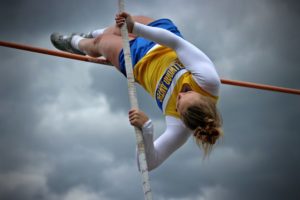 Junior Lexi G Pole vaulted 11'0 and tied the district meet record, winning Districts for the second time, breaking the BA school record she previously shared with Andrea Genesi at 10' 6". She equaled the mark last week when she earned a silver medal at the PIAA meet.
#1- Karson Swogger becomes top scorer in Blair County.
Karson Swooger became the most prolific scorer in Blair County in her last season as a Blue Devil. In January the St. Francis commit scored 27 points in a win over Williamsburg to surpass Lacey Claar as the county's best scorer, surpassing the mark of 2,187 set in 2007.
Swogger finished her career with 2,525 points after scoring 802 as a senior. She holds B-A record for points in a game, season and career.