Gerwert garners silver at PIAAs
Engle takes fourth in triple jump
Nobody thought that Bellwood-Antis would have competitors medaling at states but sometimes seedlings can lie.
Junior Alexis Gerwert was the highlight of the PIAA Track and Field Championships at Shippensburg, placing second in pole vault Saturday.
Classmate Clay Engle turned heads, as well, coming in fourth in the triple jump.
She was only given fifth seed and lost to an all-star pole vaulter that was favored to win first place. South Williamsport senior Katie Jones, who has committed to Penn State, took first with a record jump of 13-4.
Gerwert tied her personal best of 11-0, which is a school record. Two other girls tied her at the same height.
"It felt pretty good," said Lexi Gerwert "I think we all knew what would happen with first place going in, so I just wanted to get on the podium. I wasn't seeded that high going in, so it was nice."
Clay Engle took fourth in the triple jump. Clay was seeded eighth and placed fourth.
"I was super exited to take fourth," Clay said. "I was able to get it on my last jump after the crowd started clapping and pumped me up a little bit."
Engle said he now hopes to win states next year as a senior. He finished in Shippensburg with a personal-best jump of 44-23/4. He had some help this season as 2011 grad Brian Leap, a Big 10 champion last season in the triple jump, coached him in the event.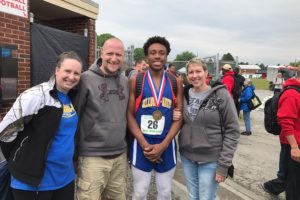 "Clay and Alexis medaling is a great accomplishment for them," said boys coach Nick Lovrich.  "In the triple jump, Clay was one of the few jumpers who actually improved at the meet.  It was great to see him go to state and medal on his first trip.  It was nice to see Alexis get her medal after not getting one in her first two trips.  All the work hard she has put in paid off for her.  With both of them being juniors that makes it even more exciting for them that they have a chance to medal again next year."
Jarret Tanneyhill, B-A's other PIAA qualifier, finished up the year placing fourteenth in the javelin throw.
"We are proud of all three of our athletes who participated at states.  They did an outstanding job and added to the rich history we have in track and field here at BA," said Coach Lovrich.