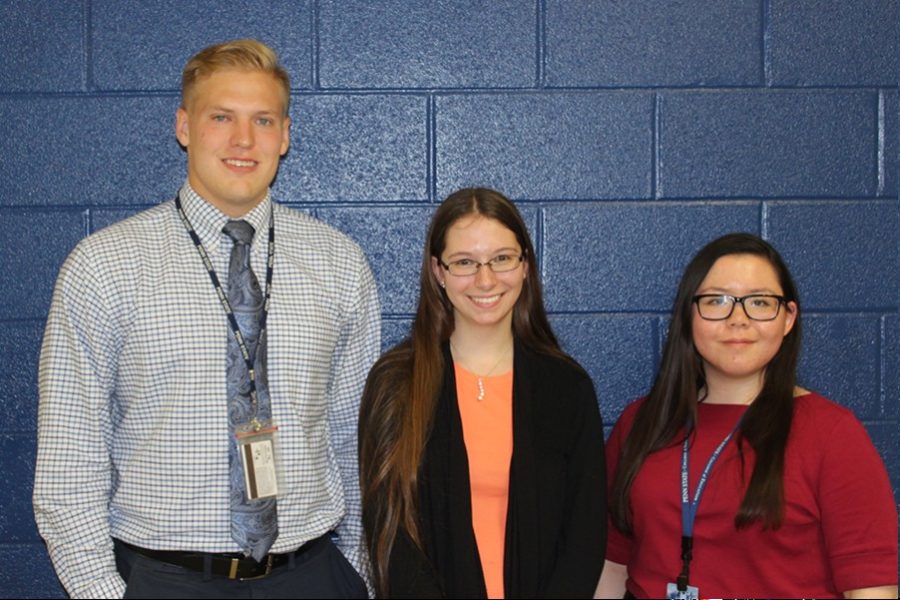 Julie Norris
In September Bellwood-Antis received three  new student teachers from Penn State in the French, English, and History classrooms.
Since it is pre-student teaching, the teachers are only here for the first four periods of the day.
The Blueprint interviewed all three student teachers to learn more about them.
Miss Lui, Mr. Van-Scoyoc's student teacher, graduated from Egg Harbor Township High School in New Jersey.
She described herself as calm, kind, thoughtful, and creative.
When she was a child she wanted to be a Pirate, but she realized that pillaging is frowned upon in many societies.
What she hopes to get from this student teaching experience is to learn what does and doesn't work when teaching a language; she wants to know how to get students interested in learning French.
Miss Lui didn't always want to be French teacher; she said at one point she wanted to be an interpreter, and when she entered college she was actually studying criminology.
"I wanted to show others that learning a new language is fun, it's not about being perfect, but rather communicating with new people," she said.
In five years she hopes be teaching at an international school. She has an ESL certification, and she could easily get a TEFL certification, so she would love to teach in a country where English is not a primary language.
Miss Mowery, Mr. Naylor's student teacher, graduated from Columbia-Montour Area Vocational Technical School.
She wants to be a become a English teacher because she thinks there is so much more than just grammar that can come from an English classroom. She said literature can hold the power of understanding and discussion that can be relatable depending on how it's taught.
"I hope to gain more understanding of the classroom as a teacher instead of a student," said Miss Mowery. "There is so much more that goes into teaching young people then just telling them information for the test."
What she hopes to be doing in five  years is to have a permanent teaching positon. She is also considering attending graduate school for a master's degree in English.
She didn't always what to be an English teacher, but she has always wanted to be a teacher. It took her a very long time to realize that English was her subject area. When she was in middle school she thought she wanted to teach Astronomy. However, she was inspired by her previous educational experiences. She had two teachers, one in seventh grade and one in eleventh grade, and that showed her what teaching can really be.
After she leaves Bellwood-Antis she will be teaching at the Pierre Indian Learning Center in South Dakota.
She described herself with five adjectives: kind, and calm, diligent, practical, and resourceful.
Mr. Nawrocki, Mr. McNaul's student teacher, graduated from North Pocono High school.
He described himself as frugal, calm and patient.
He was not a huge fan of school as a kid, it was not until after school that he realized the importance of learning, so he would like to try to help kids not make the mistake that he made of not taking learning seriously in high school.
When he was a child he actually wanted to be a professional athlete. He said it didn't matter what sport it was, he just wanted to play sports and nothing else.
He always wanted to teach history.
"I hope to see what strategies and techniques work to make students want to learn and how I as a teacher can make my classroom fun and conducive to learning," he said.
He thinks history is a long and ongoing story, so teaching it is like telling a story every day. He's also believes history gets a negative reputation as "boring" and he is on a crusade to change this.