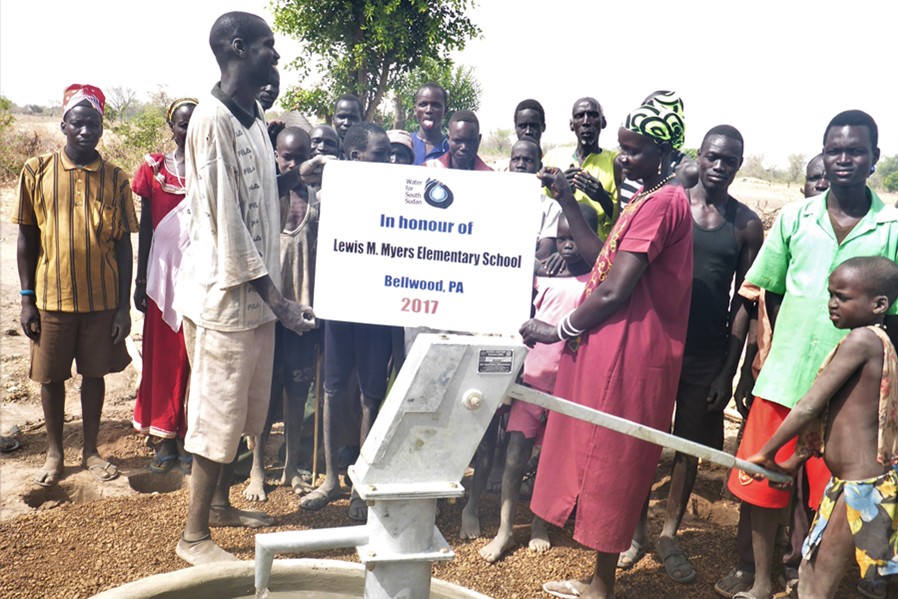 Courtesy photo
Over the past couple years, Myers Elementary School students have been raising money in support of "Water for South Sudan." Students have raised over $18,000, and this money has been put to work.
Water for South Sudan Inc. is a project brought together by Salva Dut that  builds wells for poor villages in his homeland.
Myers learned recently that the well it helped sponsor has been successfully built.
Mrs. Lori Crownover, a fourth grade teacher who organized the sponsorship, believes that these types of experiences are important to the student curriculum.
"We do believe that these types of experiences are beneficial for the student curriculum because we believe that curriculum should include relevant experiences that push students to think beyond themselves," she said.
Jayce Miller, a student who was involved in the project, feels strongly about helping others.
"I feel very overjoyed to have been a part of such an amazing project," she said. "I believe students should always help raise money for those in need. I believe (they) could learn a valuable from this; give whenever when you have the chance."
As for the future, Myers principal Dr. Terri Harpster, who was also involved in the project, has interest in continuing to connect students to people in need.
"I am always interested in students being involved in authentic ways in improving the lives of others. What I loved about the project Change Changes South Sudan was that it started with a book read to the students, A Long Walk to Water," Dr. Harpster said.
She said the book broadened and challenged students' thinking about the lives of other children in other parts of the world. Students felt a desire to do something.
"They actually believed they could do something to change the lives of children living in South Sudan. And…three years and $15,000 later, they did," she said. "School service projects do not get more authentic than this! For 10-year-olds to see the difference they can make in the lives of other children is priceless."
The well is located in the village of Lith Angui, in Marial Baai, Wau State. The GPS coordinates are N 08° 01′ 422″ E 028° 01′ 347″.