Arts Night Draws a Big Crowd
Fifth Annual Show Displays the Work of B-A Student Artists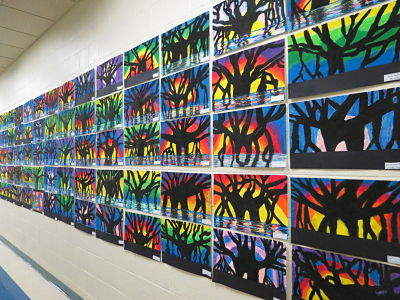 Bellwood-Antis School District celebrated its 5th annual Arts Night earlier in April; friends and families came to see the students' art projects and show off their creativity and skills. Students in Mrs. McNaul's art classes participated in the show and were able to bring their families to come and see their art projects.
"I've always wanted to have an art show to feature what my students do each day," McNaul said.
Mr. Sachse's band students also participate in this event every year as well; they fill the school with the musical pieces that they've worked on throughout the year.
"The idea of combining it with Mr. Sachse's students came about after talking to him about this desire. After that, it blew up into a collaborative affair and then created an 'event' with many facets," McNaul stated.
Without the help of McNaul, Sachse, Home-Ec. Teacher Mrs. Reitz, elementary art teacher Mrs. Campbell, Industrial Arts teacher Mr. Mackreth, and middle school teacher and technology instrictor Ms. Forshey, Arts Night would probably not be as big and popular as it is now.
"The best part of the evening is seeing everyone's faces from the community and hearing the laughter in the halls," McNaul said. "Stress will always be a factor in such a large event, which isn't fun, but it is getting easier each year we put this on."
McNaul said that next year they'll be relocating the face painting station, which has always been in front of the ramp in the lobbt, to make better use of the area and make it easier for the painters to do their jobs.
"I would like to see more independent artists submitting work," McNaul stated when asked what she would like to change about Arts Night. McNaul also said that she hopes the art club will have more products to sell at the door to help generate more funds for the projects that they are working on.