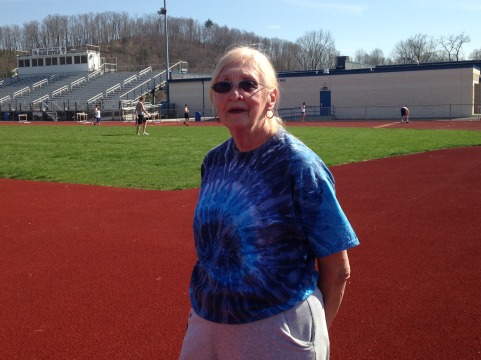 The Bellwood-Antis girls' track and field team smothered host Philipsburg-Osceola 113-37, and Huntingdon 100-50 to extend their 2014 record to 10-1 on April 17. In the process, the Lady Devils handed long-time girls' track Coach Julie Roseborough her 400th career win. Miss "R", as she is known to her student-athletes, has compiled a 401-79-3 record in 49 years of coaching at B-A.
Ms. R was humble about the milestone. "It is a pretty good feeling," said Roseborough. "I just feel blessed to work for the Bellwood-Antis School District; they have been wonderful over the years. I have had the opportunity to coach a lot of great girls, not just athletically, but they have been just great kids."
Boys' Track and Field Coach Mr.Lovrich was asked how he felt about Miss R's 400th win. "It is a great accomplishment for her. She has been the only girls' track coach in B-A history so not only is it important for her, but also for the school. Miss R blazed the trail for girls' sports here at B-A. She has had so many talented teams so that shows how good of a coach she really is. Her longevity in coaching will probably never be matched."
Miss R's first win was earned in 1966 against Cresson with a score of 18-13.