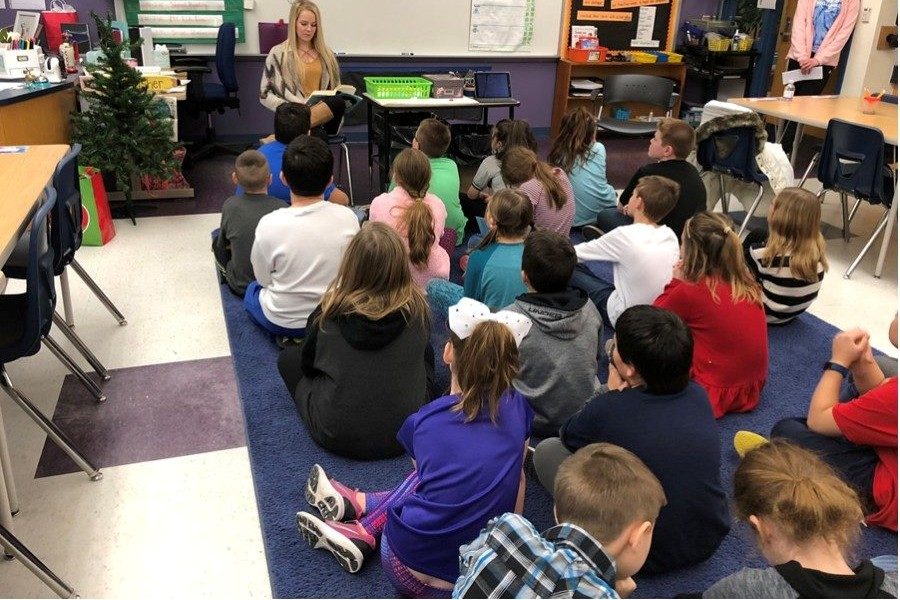 Sidney Patterson
If you're an 80's or 90's kid, kindergarten may bring to mind some fun images, like duck duck goose or circle time. However, that has changed drastically over the last decade-and-a-half.
"We used to have more time for exploration and play in kindergarten, and now because of state standards, that time has been reduced," said Dr. Terri Harpster, the Principal at Bellwood-Antis's Myers Elementary.
Since the inception of high-stakes testing in Pennsylvania in the early 2000s, education has evolved and changed in immense ways. Testing dictates that children today need to develop skills earlier than the children of twenty years ago, which creates high expectations for young students.
According to Dr. Terri Harpster, the transition into Common Core standards, a set of educational standards for teaching and learning only found in the U.S., has forced children to not only learn basic skills much earlier, but to demonstrate abstract and deep thinking.
According to Dr. Harpster, elementary students of the past have never had to demonstrate such in depth skills as early as they are expected to now. Students today are now expected to be taking important standardized tests, such as the PSSA's, in third grade.
Any High School student will say that standardized test are a gigantic source of anxiety. But now those feelings of angst and pressure are extending to the youngest students, as well.
"We have students in third grade already communicating anxiety over the PSSA, which will be administered in the spring," Dr. Harpster said.
Pressures on elementary students can have a negative impact on their perception of the educational process, according to Myers second grade teacher Mrs. Tara Naylor.
"Students should be feeling excited to learn, not pressure to perform," she said.
Mrs. Naylor said that learning, in some aspects, should be more difficult rather than easy. The whole point of school is to challenge young minds; however that doesn't necessarily mean that the pressures for younger kids should increase.
"Learning takes perseverance, commitment, and support," said Naylor.
Mrs. Lori Dionis, another Myers second grade teacher,  has noticed the drastic change in learning expectations. She said while the number tests being administered has increased considerably since she began her career nearly 30 years ago, teachers are now being held accountable for their students' scores on tests now more than ever, which limits the freedom of the learning environment.
According to Mrs. Dionis, the math program has had the most drastic change. Bellwood-Antis School District used to teach numbers to 100 and cover 2-digit addition and subtraction in second grade. Now, BASD teaches numbers up to 1,000 and covering 3-digit addition and subtraction in second grade and covers numbers to 100 and 2-digit addition and subtraction in first grade.
Mrs. Dionis said this causes some students to come into second grade with a low self-esteem  in math because they are not comfortable with the numbers.
"They will ALL learn these skills eventually, but the push for them to learn everything earlier puts a lot of pressure on them," said Dionis.
Sixth grade teacher Mrs. Dee Trexler, who taught at Myers the last three years, has also watched the pressures of school expand far past elementary school. She noted that students of a younger age don't necessarily care as much about school as testers may hope, while some students perform on standardized tests better than others simply because of the way they learn.
Mrs. Trexler feels the best way to foster academic growth in schools it by allowing students to have more freedom to choose what they learn and how they learn. Every student is different, therefore every method of learning will be different.
"There is a lot of pressure on teachers because they want their students to do well, but they have a bunch of different students with different backgrounds and it makes it difficult," said Mrs. Trexler.
One thing that should remain consistent is the interaction between teacher and student, something Mrs. Naylor would hate to see dissolve if even greater emphasis goes to achieving learning standards at younger and younger ages.
"Creating a classroom environment requires learning from both students and teachers," said Naylor.