ARTIST OF THE WEEK: Dakota Woomer
Dakota Woomer, a freshman, has been drawing for most of her life, but her passion didn't bloom till seventh grade.
Dakota got her start in drawing a few years ago when she found her mom's sketchbook and found a desire to draw instead of doodling. When she doodles in class she usually draws trees, but, if she is drawing she loves to draw things from nature.
"
She has blown me away this year in how improved and notable she has become."
— Mrs. McNaul
Even though she got her start in drawing from her mom, Dakota said she doesn't have a person who inspires her to draw. Instead, what inspires her to draw is the feeling of accomplishment she gets when she finishes her project, which makes her want to finish more projects.
Even when she is having a bad day or is worrying about something, her drawing takes her mind off of things.
"My friends and family give me ideas to draw but I don't really have someone in particular that inspires me, I just like to draw," said Dakota.
Mrs. McNaul, the high school Art teacher, said that Dakota has surprised her this year.
"I don't remember her being this refined in her drawing skills when she was in middle school. Her latest project has really put a spotlight on her abilities," Mrs. McNaul said.
Mrs. McNaul said that Dakota's ability to replicate what she sees is fantastic to watch. "She can document slight subtleties in value change and shift slightly from one value to another," Mrs. McNaul said.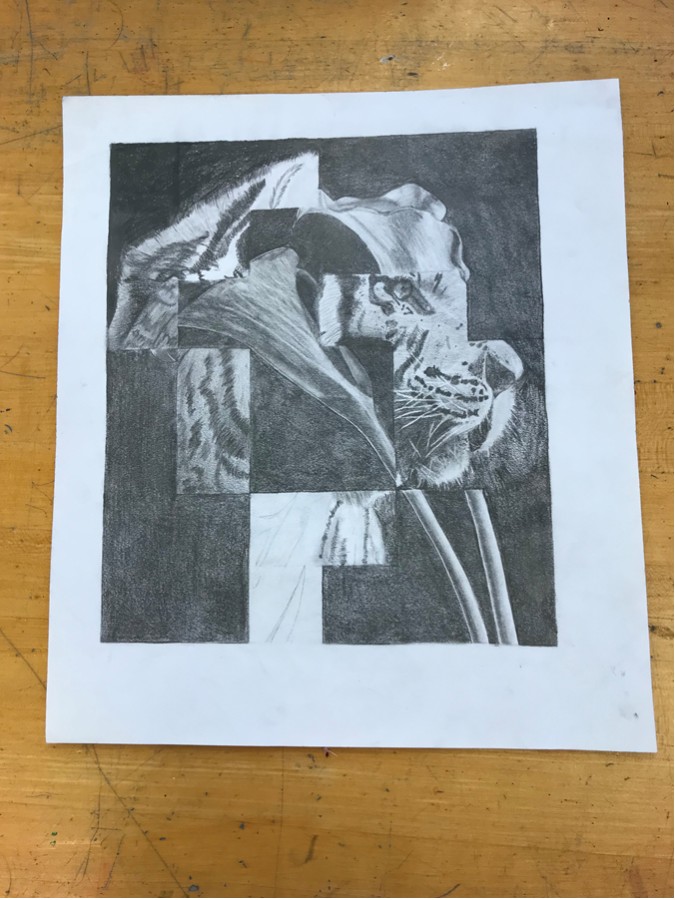 In fact, there are many things that Mrs. McNaul likes about Dakota's artwork, including her intuition.
"What I like most about her artwork is the same as her strengths. She has great intuition about her work and can decipher when her drawings are not a perfect portrayal of her reference picture. She takes instruction well and can apply most learned tricks the first time taught to her. She has blown me away this year in how improved and notable she has become," says Mrs. McNaul.