Friends and competitors
Bartlett and Jacobs shine in speech meet: Campbell takes first again
Everybody knows that Jenna Bartlett and Alivia Jacobs have been best friends since middle school. They even had great success last year when they competed as a duo team in speech league.
Nowadays, Bartlett and Jacobs have parted ways on the speech team and are no longer a duo. They compete against each other in the informative category as singles.
Despite their everlasting friendship, the two peas-in-a-pod still want to demolish the competition, including each other.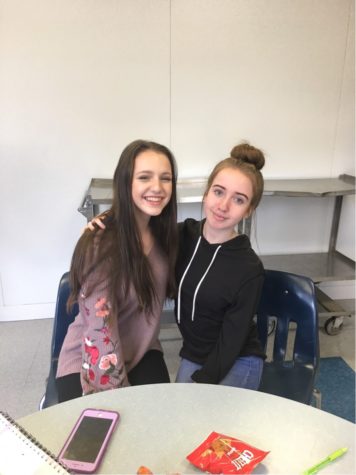 At the speech team's most recent meet Tuesday in Johnstown, Jenna took first in the informative category, while Alivia placed second. It was a reversal of the team's previous meet at Blacklick Valley when Jenna placed second to Alivia.
Meanwhile, freshman Haley Campbell earned her second first-place of the season in the declamation category.
During round one on Tuesday, Jenna began her speech about how technology makes society dumber. The speech is supposed to be humorous, but when Jenna presented on of the funniest parts of her speech in front of an older audience, and all she heard was crickets.
"Round one was horrible. No one was showing emotion, and I really like getting reactions. It really makes me feel like I'm doing a good job," said Jenna.
Round one for Jacobs also seemed to not go as planned.
"I went way too fast and I know it," said Jacobs.
Competing against your best friend cannot be easy. According to Jenna, it's a little frustrating for her because she knows how much of a natural Alivia is. She said that gives her this sense of determination and drive to make her speeches even better.
Ironically, Alivia feels the same way towards Jenna. Alivia views Jenna as her best friend but also her rival. According to Alivia, Jenna did so well her first year that it makes Alivia want to practice even harder.
Speech Coach Mrs. Alyssa Cunningham thinks part of Jenna and Alivia's success comes from their ability to use the information the judges give them on scoring sheets.
"Jenna and Alivia have adjusted their speeches several times and used the constructive criticism from the judges to improve," said Mrs. Cunningham. "They have had nearly perfect scores at every meet this year."
Both ladies are very excited for regionals. A big goal for both competitors is to make it to states by practicing hard.
In declamation, Haley presented a speech about bullying called "God Put You Here for a Reason."
"I am very confident in my speech. I got really good feedback and everyone liked my fake cry," said Campbell.
"
Haley is naturally talented"
— Mrs. Cunningham
In her first year on the senior high speech team, Haley has even placed within the poetry category, which consists of a larger pool of people compared to the declamation category, which only includes freshman and sophomores.
"I'm probably more proud of my sixth-place finish because of the number of people I was going against," she said.
Mrs. Cunningham said Haley has a gift for this type of competition.
"Despite switching categories mid season, Haley has continued to place first. She is naturally talented," she said.