B-A track dominates
The boys track team advanced its record to a perfect 6-0 yesterday on the road with wins over Northern Bedford and Mount Union.
The field team won every single event with a shot put throw of 40-1 from Chris Wertman, a discus throw of 104-10 from Jared Zitterbart, and a javelin throw of 134-4 from Dominick Tornatore.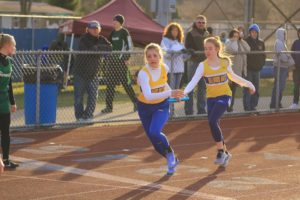 Senior Clay Engle was able to take two first places in high jump with a jump of 5-6 and in triple jump with a jump of 41-1. Bellwood-Antis's nick Watters won the long jump with a jump of 19-3. Junior Dominick Faith took the last jumping event of the day for the boys with a 10-0 pole vault.
Tanner Worthing was able to take home two first place awards in the 200 and 400 yard dashes. The BA boys relays teams swept the 400, 1600, and 3200 relays.
The boys  defeated Mount Union (126-24) and beat Northern Bedford (117-33).
The girls track team had a strong showing by defeating Mount Union by a score of (119-30) and Northern Bedford by a score of (89-59).
BA won one of the field events with a 69-2 throw from Kera Engle in the discuss. Kamryn Mercer won two of the jumping competitions with a 14-1 long jump and an impressive 5-0 high jump. Sophomore Jaydyn Shuke rounded out the jumping with a 7-0 pole vault to win the event.
Jenna Bartlett posted two wins on the track in the 1600 and 3200, while Jamyson Focht took the sprints, winning the 100 and 200.