Places You Would(n't) Want to Visit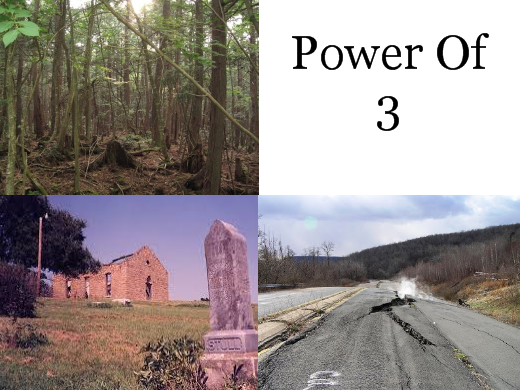 There are a lot of cool and interesting places in the US to visit. From small towns to big cities, these are some creepy and intriguing places to go.
Centralia
Centralia is not so much scary as it is just weird in feeling. Centralia has been an inspiration for the game Silent Hill and then later the movie based off of the game. A fire in a coal mine resulted in people having to leave. The population went from over 1000 residents to 63 from 1980 to 1990. As of 2013, there were only 7 people left in this small town. This is the least populated town in all of Pennsylvania. All buildings and homes were condemned by the Commonwealth of PA. The zip code was also discontinued by postal services in 2002. This town is definitely one of the most popular ghost towns in the US.
Stull Kansas
Stull Kansas is a place that would probably make you paranoid if you lived there. Stull's cemetery is known as the "Gateway to Hell." The town was originally named Deer Creek and then renamed after its first postmaster, Sylvester Stull. In the early 20th century, the town had two tragedies occur. The first was a young boy who followed his father into a field where he was burning and died. Then a man was found hanging from a tree after going missing. The rumors of the cemetery being the "Gateway to Hell" started in November of 1974, issued by The University of Daily Kansas who said that the Devil appeared in Stull twice a year. Once is on Halloween and once on the spring equinox. If you ask me, this is not a place I would really want to live. There are also people that have gone here and reported that a stair case opened in the church, leading down to Hell on Halloween night. That is a very comforting thought. 666 anyone?
Aokigahara (Suicide Forest)(Sea of Trees)
This is definitely the most popular and well known place, probably in the world. Known to most as the "Suicide Forest", this is where people will go to commit suicide. Even if you don't go there to die, if you don't have a tour guide with you, locals say that you will get disoriented and go mad because of all the depressed spirits that remain in the forest. This seems like a very strange place that people would want to visit. Don't get me wrong, it is a beautiful mountain, but it still seems very morbid. Schools have even taken trips to the forest. Why? I don't know. But I guess in Japan, it is kind of part of their history. I do give my condolences to the families and people who have passed away here.