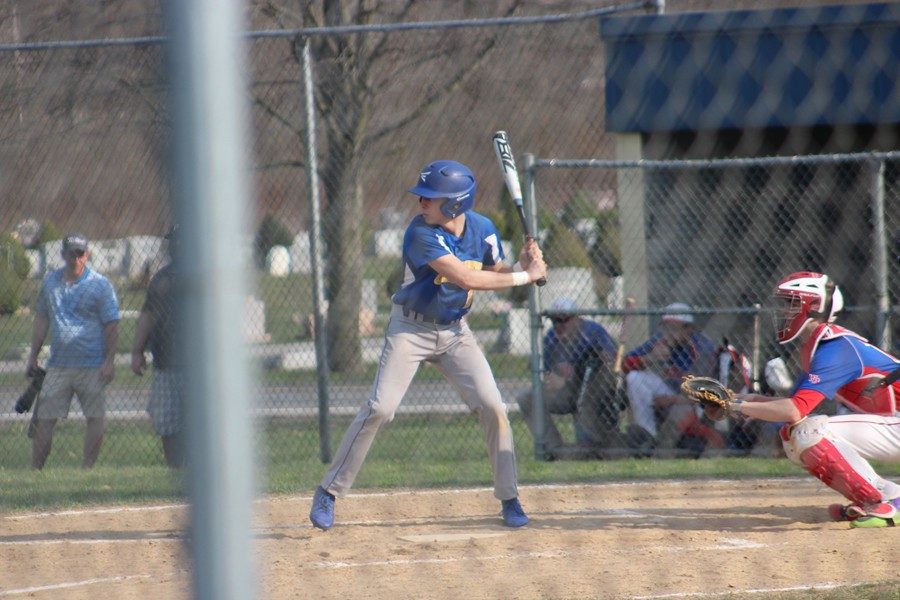 Riley Miller
Mount Union shut out Bellwood-Antis for six innings and held off a scare in the to give the Blue Devils their first loss, 4-2.
The Trojans scored three runs at the top of the first inning, some of which came due to B-A errors. The Blue Devils would tighten up their field game, but not before Mount Union added one more run to their lead at the top of the sixth.
B-A broke Mount Union pitcher Dylan Gearhart's shutout off an Ian McFarland double in the bottom of the seventh inning, scoring two and giving hope to the fans who crowded B-A's baseball field on what was a beautiful day in Blair County.
Even with McFarland's heroics, B-A couldn't complete the comeback, and the game ended 4-2.
"We battled in the last inning and had a chance with runners on to time the game," said B-A coach Steve Conlon.  "Their pitcher is definitely one of the better ones we will face this year, but we were able to battle against him. I like our chances against most teams if we only give up four runs in a game."
Errors were a huge part the game, especially early on. The Blue Devils had three, all coming in the first half of the game, which allowed Mount Union to increase its lead. The Trojans, however, played a stout defensive game that proved hard for the Blue Devils to crack. Mount Union didn't commit any errors, and struck-out 13 B-A hitters out of the Blue Devils 27 at bats.
The Devils' inability to adjust to Gearhart was the key factor in the eyes of Coach Conlon.
"The biggest thing that affected the outcome was out approach at the plate.  They threw a pretty good pitcher that was on his game," he said. "We took too many fastballs for strikes and got behind in the count.  It is hard to beat a good team when you strike out 13 times."
Mount Union improved its record to 4-1, with its only loss coming against an undefeated Juniata Valley team. Bellwood-Antis on the other hand, dropped to 4-1, and will play Phillipsburg-Oceola Friday afternoon at 4:30 at home.