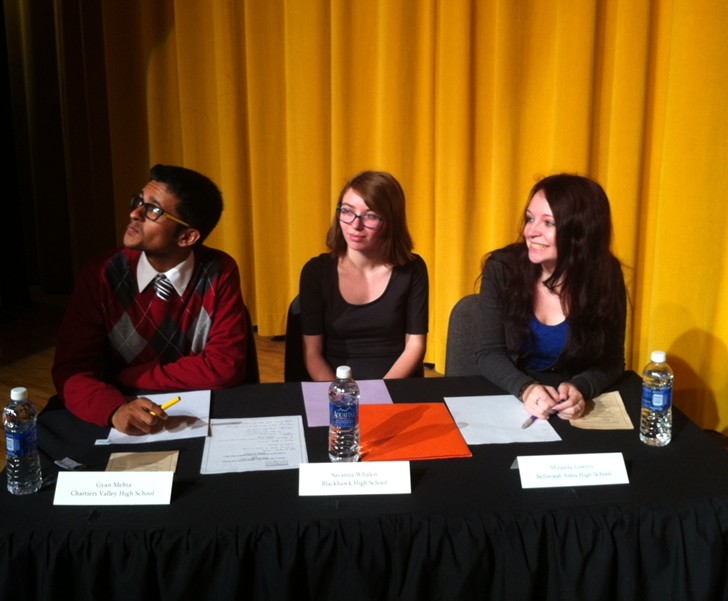 Senior Miranda Lowery got the opportunity to be part of University of Pittsburgh College in High School Argument Forum on Thursday, May 1st 2014 at North Allegheny High School.
Every year schools in Pittsburgh's CHS debate program spend part of the year arguing a common topic. This year's topic was "In high school, discovery of learning should be more important than a pathway to a career."
"It was interesting to be on another level where I could see other students from other schools do what I do," said Miranda.
Schools tape debates and send the best one to Pittsburgh where speech teachers and student's judge them and pick one person per school for the end-of-the-year debate.
Twelve different schools attended the debate, including Bellwood-Antis. These schools were all from Greater Pittsburgh and included: Central Catholic, Steel Valley, North Hills, Seneca Valley, Pine Richland, Chartiers Valley, Freeport, Montour, Quaker Valley, Blackhawk, and North Allegheny.
Miranda was on a panel of questioners who questioned the debaters throughout their speeches.
Over 200 students attended. Every student who participated in the debates received a gift bag.
Miranda added, "I met a lot of interesting and talented people, and it was a great experience to get better at speaking in front of people."
"The Argument Forum is one of the premiere yearly events of College in High School, where students get to demonstrate the college-level thinking and learning they have been doing for the course," said Dr. Michael Giazzoni, Director of the College in High School Program at Pitt. "It's always a blast to see these students thinking quickly to weave their arguments and express their thoughts!"
This year marked the 14th CHS public forum debate. Moderator, Gordon Mitchell, an Assistant Dean of the University of Pittsburgh's Honors College and Associate Professor of Communication, organized has nearly 100 public debates like this one in the Pittsburgh community.
"It's a great experience and the highlight of my year as the teacher of the CHS class," said teacher Mr. Naylor. "You get to see so many talented speakers and listen to arguments presented in ways you may have never heard before. It's also nice to visit North Allegheny, which is always a gracious host."