SPORTS ROUNDUP: Boys soccer wins opener
In a busy sports afternoon, the  Tyrone/Bellwood-Antis boys co-op team achieved a record of  1-0 with a 5-2 victory last night over Clearfield on the road.
Bellwood's very own Corey Johnston, last year's leading goal scorer, had a goal and two assist on the night. The goal came on a penalty in the 12th minute. Classmate Owen Shaulis helped out with a pair of assists.
Tyrone's Andrew Pearson had the hat trick to put the game away on their 5-3 victory.
GIRLS SOCCER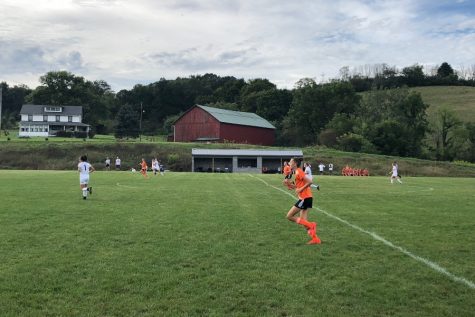 The Tyrone/Bellwood-Antis co-op team suffered a heart breaking 3-2 defeat to Clearfield last night in an overtime battle.
The girls were down 2-0 through the first half before Bellwood's Riley D'angelo to make it 2-1.
D'Angelo tied the game with 10 minutes left.
The girls fell short 5 minutes in overtime with Clearfield scoring the overtime winner.
"For our first game, we played together well and we can only get better," said D'Angelo. "We already look better than last year's team."
VOLLEYBALL
The Lady Blue Devil volleyball team played their biggest rival at home last night, West Branch.
The girls took a tough loss, losing the first 3 sets, ending the night in straight-sets defeat. The girl's season record is 1-1.
The girls put up a close fight in the first set, losing 22-25. In the second the girls kept the Warriors fighting, but lost the set 18-25. The girls eventually lost the third set 14-25, ending the game.
Despite a hard defeat, the girls played a good game overall. Junior, Sakeria Haralson, led the team in service points with 6 points.
Junior Bella Kies had a great game, leading the team with a total of 7 kills. Sydney Lechner, another junior, had a total of 23 assiss, and Karlie Feather came away with a total of 8 digs.
CROSS COUNTRY
The boys and girls cross country teams got the season started right yesterday at home with wins over Central.
Senior Jenna Bartlett took first for the girls, leading a group of Lady Devils who swept the top four places.
Bartlett finished in 21:44, with Ashley Yon, Thalia Lucio and Alexis Noel finishing behind her.
On the boys side, sophomore Kenny Robinson took top honors, finishing in 20:26.
Dan Kustaborder placed second, while Zion Poe was fourth.