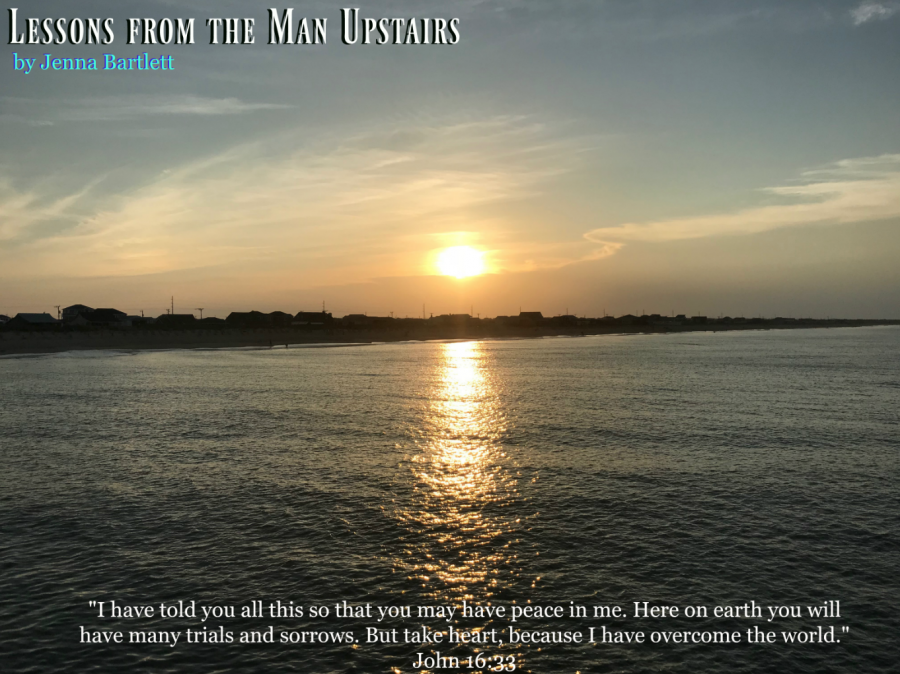 I saw THE BEST gif the other day, and I am so excited to share. Check it out before we get rolling.  Even if you aren't comforting your best friends and you just needed a reminder yourself, this gif made me laugh and brought forth the greatest message.
I think we as Christians tend to forget who we are. We don't remember that we ARE children of God; we ARE all in the palm of His hand and He IS always taking care of us. Sometimes we think we have to be strong on our own, that we think our problems are too minimal that we don't need to bring God in on them. God wants to know! He knew the situation was going to occur in the first place, so He wants to be involved, too! Never push God out, or think He doesn't care about what is going on in your life or He doesn't have time for you. On the other hand, when problems seem huge and mountainous and like they can't be solved in any way, shape, or form, remember: God is bigger than the problems you face; it is as simple as that.
School has been kicking my butt recently. And to be honest, it isn't school's fault. It's my fault because summer has made me dreadfully lazy, as well as this humid weather that has just made me think school is dumb and I don't need it and all that. (stay in school, kids!) Truth is, I'm in major college mode, where I just want to roll up to class in my pajamas and without my teeth brushed and not have to worry about the dress code. HOWEVER, I'M GOING TO PULL MYSELF TOGETHER, AND SO ARE YOU.
I don't know what you got going on in your life right now, whether it be a cold, the weather, American History, World Cultures, finances, friendship/relationship problems, etc., but what I do know is that God is looking out for you. Sometimes, I wish I could see God, really SEE Him, like standing in front of me and I could talk with Him. It is frustrating when you can't see God but you know He is there. I feel you! I know how it feels! There are moments when I get scared and think God really isn't there, like literally is not there at all. But I read something in the bible that reassured me that we, as God's children, can rely, trust, and give our worries to our God, who loves us so so much. This is a long verse, but please please read it; it is worth it, I promise.
"Once you were dead because of your disobedience and your many sins. You used to live in sin, just like the rest of the world, obeying the devil—the commander of the powers in the unseen world. He is the spirit at work in the hearts of those who refuse to obey God. All of us used to live that way, following the passionate desires and inclinations of our sinful nature. By our very nature we were subject to God's anger, just like everyone else.
            But God is so rich in mercy, and he loved us so much, that even though we were dead because of our sins, he gave us life when he raised Christ from the dead. (It is only by God's grace that you have been saved!) For he raised us from the dead along with Christ and seated us with him in the heavenly realms because we are united with Christ Jesus. So God can point us in all future ages as examples of the incredible wealth of his grace and kindness toward us, as shown in all he has done for us who are united with Christ Jesus.
            God saved you by his grace when you believed. And you can't take credit for this; it is a gift from God. Salvation is not a reward for the good things we have done, so none of us can boast about it. For we are God's masterpiece. He has created us anew in Christ Jesus, so we can do all the good things he planned for us long ago." —Ephesians 2:1-10
We are God's masterpiece!!! I got so excited when I read this part; I really felt God; I felt His presence. He just said in the verse above all the good things he planned for us long ago!!! So despite these struggles, and these lazy feelings, and all the tough moments that come with school and work and personal troubles, God has GOOD THINGS PLANNED FOR YOU. THIS ISN'T THE END; THIS IS THE BEGINNING. REMEMBER WHY YOU ARE A CHILD OF GOD. YOU REMEMBER WHAT HE HAS IN STORE FOR YOU, BECAUSE IT IS SO SO SO SO SO GOOD. I wish I could make the caps lock bigger, but that's all it will go. Please understand that even though struggles are here now, it is NO MATCH for the unbelievable plans God has for you soon. Have patience, enjoy the moment, and don't think about tomorrow, because tomorrow has enough worries of its own.
"Jesus replied, 'You don't understand now what I am doing, but someday you will."
—John 13:7