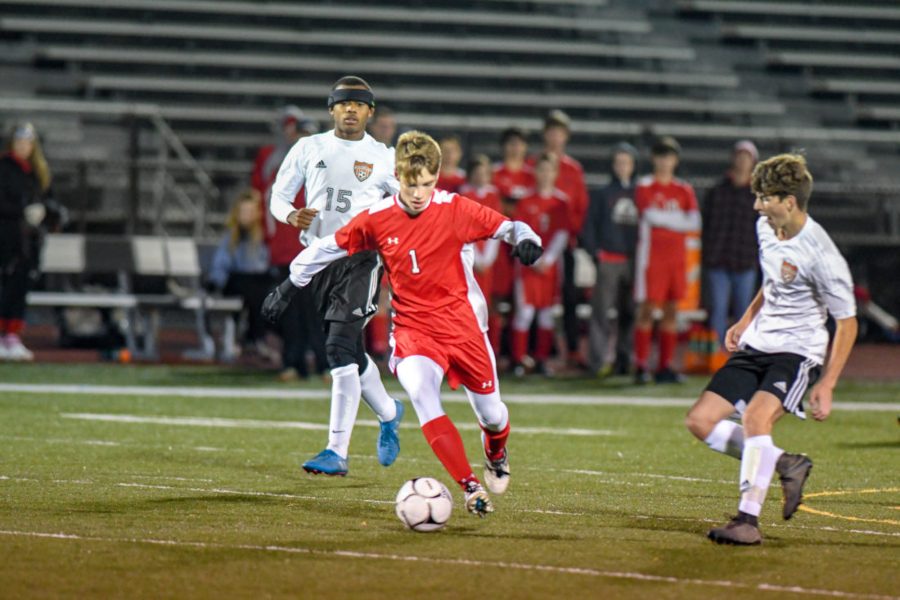 TIM WEIGHT, Lock Haven Express (Used by permission)
When Bellefonte's Evan Nyquist got a fortunate goal off Tyrone's Alex Taylor with 14 minutes left there was still plenty of time to play but it was an uphill battle.
"We foought really hard all season to get ourselves back to that point, so it really stinks that it was basically two unlucky goals that decided it," said Alex Roberts, a B-A junior and the goal keeper for the Tyrone/Bellwood-Antis co-op soccer team.
The Golden Eagles lost 2-1 at a cold Alumni Stadium at Bald Eagle Area to the Red Raiders in the District 6 AAA championship last night.
B-A's Junior Corey Johnston scored the lone goal for the Golden Eagles, staking Tyrone/B-A to a 1-0 lead on a free kick at the 10:53 mark of the first half.
Bellefonte tied it before halftime on a seeing-eye goal through several legs by Nyquist. Nyquist got the game-winner with just over six minutes left in the game.
"I was upset because of the way we lost, but I was proud of how we played as a team.  It's not fun knowing I'm not going to be able to play with the seniors again, and to go out like that is upsetting," said Corey.
According to Corey, Bellefonte's defense was tough on Tyrone all season. The Raiders had already beaten the Eagles twice.
"They play a different defense than most teams," said Corey. "We struggled against them in the regular season, but we did a little better last night."
Junior Corbin Nale is hopeful that the team can come back to the finals next year with the talent it has back.
"All together it was a great season, and we have a lot of room to improve," said Corbin. "When our class was playing freshman soccer we were 9-0-1. I hope we can go further next season."