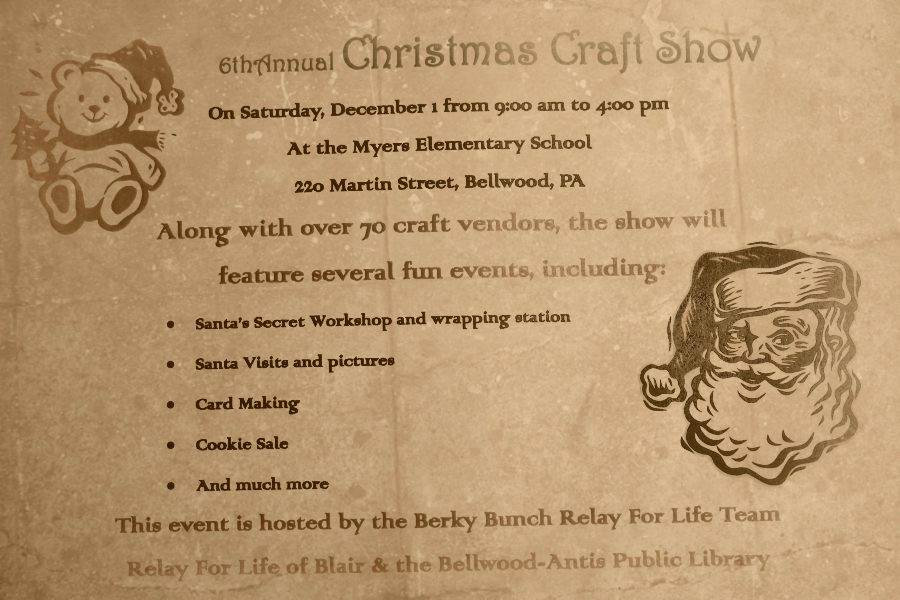 Julianna Norris
The Relay for Life Christmas craft show has become a tradition in Blair County over the past six years.
The event is hosted by Bellwood's Berky Bunch Relay for Life Team, Relay for Life Blair, and the Bellwood-Antis Public Library. It takes place at  Myers Elementary School on Saturday, December 1 from 9:00 a.m. to 4:00 p.m.
For many people the craft show is a Christmas tradition, but for those who work behind the scenes the craft show starts in August. Right before the craft show opens they have to arrange tables and place venders so two like veders are not side by side. Food vendors are also very important to the event, so organizers start early trying to get the best food vendors for the event.
There will be over 70 craft vendors this year, and the show will feature many fun events for the whole family.
Students from B-A have been asked to volunteer at the event, and it's always great to see many attended.
"Our students are amazing! They help the younger kids shop, they help vendors carry things into the building from the cars, and they get food for the vendors," said Berkey team member Mrs. Amy Chamberlin.
All the funds from the craft show go to Northern Blair County Relay for Life. There will also be a cookie sale, with all the funds divided  between Relay for Life and the Bellwood-Antis Public Library.
"This Christmas craft show has become a fun community activity to help people get in the Christmas spirit," said Mrs. Chamberlin. "Not only does it support Relay for Life, it also supports local crafters. It also gives children the opportunity to do their own Christmas shopping with the help of high school student volunteers in a fun safe environment.".