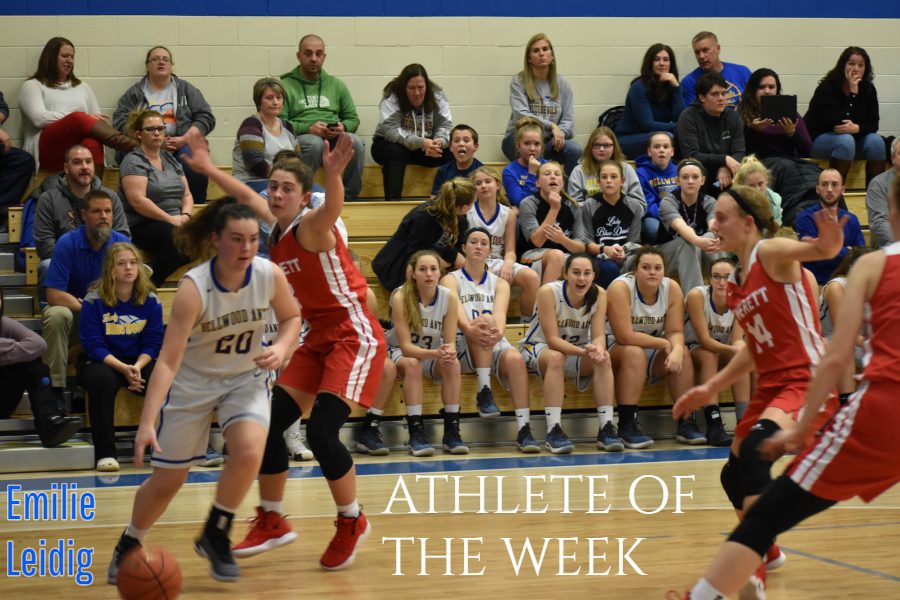 Alex Frederick
The Lady Blue Devils moved to 3-0 after their most recent win against Williamsburg and junior Emilie Leidig has had a big part of all three wins.
So far Emilie is averaging 17.3 points per game for a total of 52 points.
She is the BluePrint's Athlete of the Week.
Emilie also leads the team in 3-pointers made with 10 of her 17 attempts going down, putting her percentage at excellent 59%.
It is safe to say that Emilie is having an amazing start.
"It feels good.  I have a lot more confidence, and I know that a lot of us need to step up and score about 10 or 15 to beat good teams, so that is my goal every game," says Emilie.
There is no doubt that Emilie has been helping the team with putting points on the board. So far, her career points total is at 549.  With the rest of her junior year and senior year to play will she hit 1,000?
"That is the goal.  I think I will," says Emilie.
Despite dominating the competition last year and winning a PIAA championship, Leidig said there is pressure to perform this season.
"I do feel like there is pressure, but I don't think anyone is stressing about it," she said.  "We know it's there, but we know what we must do. We are more serious at games and practices this year because we do want to get back to back state championships and accomplish what we accomplished last year. Everyone is giving us their best game every game and the target is on our back, so we take that as motivation."
Emilie and her team face off against Lovejoy this Wednesday at a holiday tournament in Myrtle Beach.