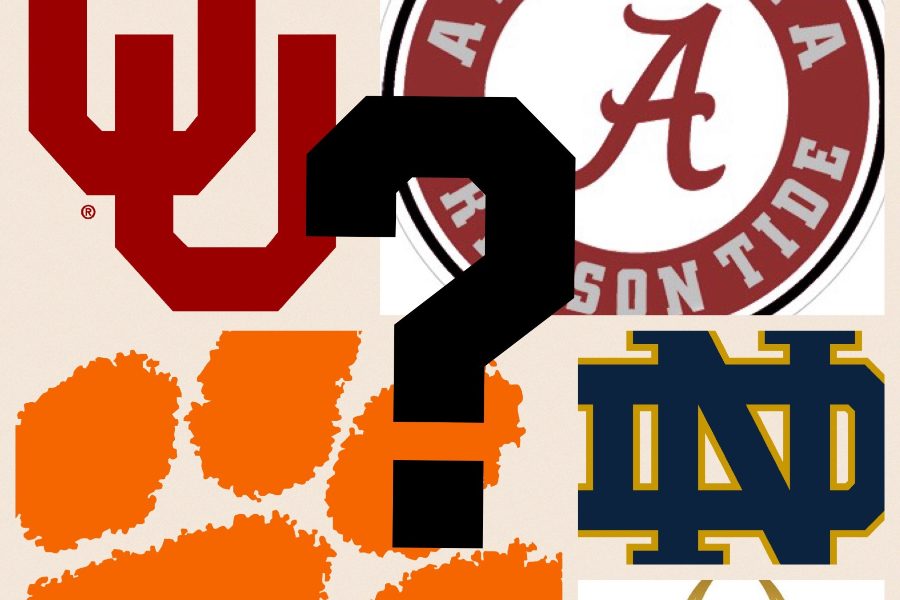 Corey Johnston
With the National Championship approaching, many football fans are still having arguments about whether the College Football Playoff Committee "got it right", or even if maybe the current playoff system needs to be completely overhauled to satisfy a higher population of people.
The College Football Playoff is an annual postseason tournament that places the top 4 teams in NCAA Division 1 (FCS), in a knockout tournament to determine a national champion.
This year's teams were Alabama (13-0), Clemson (13-0), Notre Dame (12-0), and Oklahoma (12-1).
Alabama, who won the most dominant conference in college football, the SEC, was a clear 1-seed with its 12-0 regular season absolutely dominating some of the best teams in the country, and their impressive come-from behind victory over Georgie in the SEC championship game.
Clemson, champions of the ACC, which may be a "weaker" conference (but no cake-walk), was an easy pick for number 2 in the rankings.
Clemson had early-season scares against Texas A&M and Syracuse.  Aside from that, the Tigers absolutely ran the table, especially in the ACC championship with a 42-10 win over an underwhelming Pittsburgh team.
For Notre Dame, the only blemish the Irish may have had on their undefeated record is the fact that they are not in a conference, thus do not play in a conference championship game.
Notre Dame was 12-0, and played one of the toughest schedule's out of the 4 teams in.
The 4-seed, and Big 12 champ Oklahoma was deemed "more deserving" than teams like Georgia, Ohio State, and UCF.
Oklahoma was led by Heisman Winner Kyle Murray to a record of 12-1, but there's an elephant in the room, and that's their defense. The Sooners were constantly in shoot outs and were bailed out by their extremely high-powered offense many times.
Oklahoma beat every team as its schedule, avenging their only loss to Texas by beating them in the Big 12 championship game.
Now let's get down to the playoff games.
In the first game, Notre Dame was routed by freshman quarterback Trevor Lawrence and a stout defense of Clemson 30-3.
In the other playoff game, Alabama started off strong and didn't turn back, beating Oklahoma and Murray 45-34.
Many Georgia players took to Twitter to express the fact that they should've been in the playoff during the Alabama game, but they were then upset in the All-State Sugar Bowl by a score of 28-21 to fifteenth-ranked Texas.
I didn't even want to bring up the UCF game, but let's just they wouldn't have done well in the playoff, because an LSU team missing multiple, and I mean multiple, starters beat them 40-32.
With their out-of-conference schedule and terrible conference, they shouldn't be considered for making the playoff in the years to come.
But, the most important question is, is the current format the right format?
Six teams? Eight teams? 16 teams? Is it already correct at four?
Based on the current rankings, a six team playoff with the top seeds getting a bye would be:
No. 1 Alabama would play the winner of: No. 4 Oklahoma vs. No. 5 Ohio State
No. 2 Clemson would play the winner of: No. 3 Notre Dame vs. No. 6 UCF
No two-loss team has made the CFB Playoff in the first four years of it being put into existence.
As it stands now, the CFB playoffs may generate more controversy than resolution in the eyes of some viewers, because everyone has a different opinion on who is "better", or "deserving."
I believe the playoff system was a temporary solution to a never-ending problem.  People got too upset about how the BCS was, and the fact that the 2 best teams didn't always play in the championship, so the idea of a playoff was essentially spoken into existence.
No matter what the system is, there's going to be those constant arguments and controversy.
What to do now?
I think there is a multitude of ways the playoff could be changed, but if that would make it better, I don't think anyone can say for sure.
Therefore, keep the playoff at 4 teams for years to come and if too many complaints come up, and it is clear that it needs to be different, then change it.