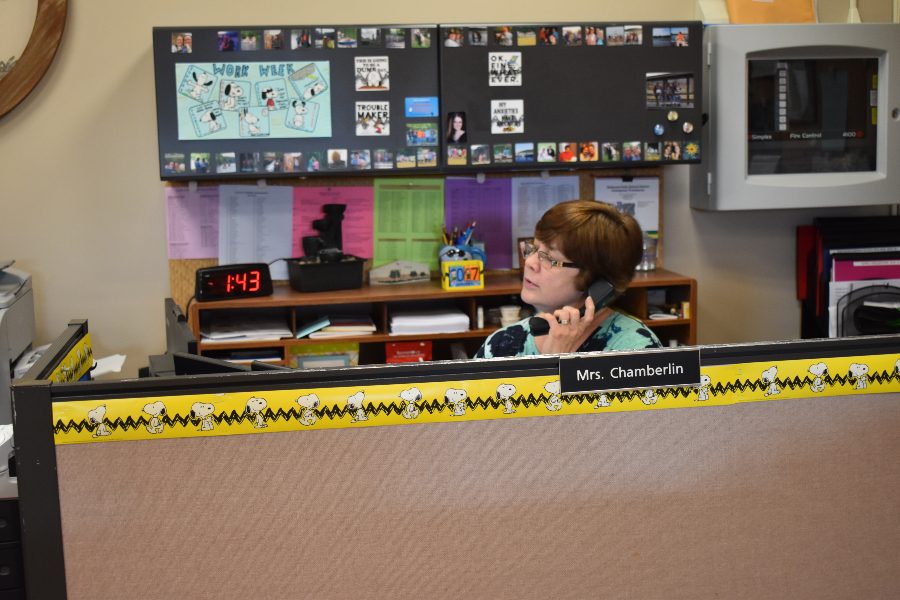 Anson Jones
Amy Chamberlin is the smiling face you see in the office everyday!
Mrs. Chamberlin has been working at Bellwood-Antis High School for 32 years. She worked one year as a personal aide to a student, 25 years as a SAP coordinator/secretary, and six years as a high school secretary. Mrs. Chamberlin also graduated from Bellwood.
At one time Mrs. Chamberlin was a legal secretary, and she enjoyed that type of work, so she started working at the school part-time to keep her secretarial skills up-to-date while raising her children.
Her favorite part about working at the school is the students.
"The kids at Bellwood-Antis are good kids, and I like helping them when I can," says Mrs. Chamberlin.
During first period, Cassidee Reiter and Jenna Bartlett work in the office as assistants.
"She's always able to make Cassidee and I laugh on those dreaded Monday mornings," says Jenna.
Mrs. Chamberlin works throughout the summer and through breaks that students and teachers traditionally have off.
"She is the hardest worker I know and she deserves more recognition," says Cassidee Reiter.
Mrs. Chamberlin also works hard outside of school with the Relay For Life organization. Years ago her daughter was involved with Relay through a college group. After her graduation, their team went separate ways, but Mrs. Chamberlin's daughter wasn't willing to quit relay. This is when their families came together to form the "Berky Bunch."
"Both my father-in-law and my dad had cancer and we wanted to help with this cause," says Mrs. Chamberlin.
Participating with Relay is just the beginning of Mrs. Chamberlin's interests outside of school. Mrs. Chamberlin also loves crafts and is one of the main organizers of the annual crafts fair at Myers Elementary each December. She has a creative side to her that many students don't see.
"I love to paint and to create something awesome out of little bits of nothing," says Mrs. Chamberlin.
She  loves to write, but painting is her favorite. Mrs. Chamberlin also loves spending time with her family. Game night and family trips are among Mrs. Chamberlin's top favorite things to do with them.