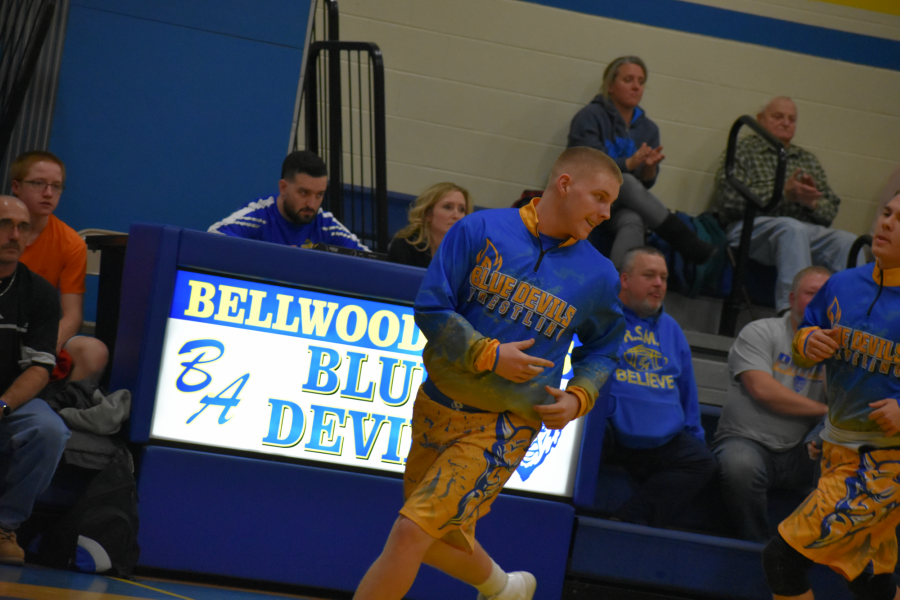 Maria Cuevas
Senior Trentin Whaley went to the Southwest Regional Wrestling Tournament last Saturday at Indiana University and earned a spot in the PIAA  championships by placing sixth in the 195-pound weight class.
On day one, Whaley went 1-1 with a second period pin in his first match before getting pinned by Bentworth's John Vargo in his second match.
After Whaley won his first two matches on day two – including a win over Bald Eagle Area's David Close, who had defeated Whaley at Districts – Vargo pinned him again in the fifth-sixth place match, but Whaley still advanced to states because PIAA takes the top eight places in each weight class.
"My first goal was to be in the District finals but I fell short and wrestled for third and fourth, but I sent him home when it mattered," said Whaley, who now has a record of 25-15.  "It feels great because it's a big accomplishment, and there hasn't been a Bellwood wrestler there since 2012, so it's been quite some time."
Whaley is the first Bellwood-Antis wrestler to advance to Hershey since Jared Woomer.
"I'm excited for Trentin. He was determined to place at Districts and Regionals and make it to states. He did exactly what he needed to do to get there. He wrestled smart matches and did  things right," said wrestling coach Tim Andrekovich.
The state tournament will be held at the Giant Center in Hershey from March 7-9.
"Its been seven years since we've had a state qualifier so its an accomplishment for him and its great for our program. Hopefully his success will motivate other guys to strive to achieve what he has done," said Coach Andrekovich.
Whaley has high hopes for his first PIAA appearance.
"My goal is to try to place top eight. I jut want to be a state place-winner. The best kids come from District 6 and the Southwest Regionals," he said.