Teacher Feature: Pete Harry makes learning fun with his music
Let's assume that everyone knows what Youtube is. You know, that place you go to if you want to watch a funny video about how animals eat their food or to listen to that new song?
Well Bellwood-Antis teacher Mr. Pete Harry uses Youtube for a completely different reason. His page has over 70 million views and more than 73 thousand subscribers. He makes all types of educational music videos for teachers and students to use to help create different learning environments.
For the past nine years Mr. Pete Harry has been a part of the Bellwood-Antis School District as a kindergarten teacher at Myers Elementary. He teaches all of the core subjects and uses music and pictures to do it.
"He's a very creative and talented teacher who integrates fun music and lyrics into his curriculum," said Myers principal, Mrs. Terri Harpster.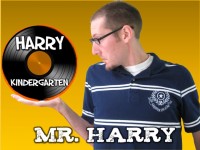 Mr. Harry said that when he was young he had teachers that were very involved who showed they cared about him not just in class, but after school hours, and he wants to do that same thing for young kids today.
"
I love the Bellwood community and how everyone here supports everything.
— Myers teacher Pete Harry
"Warm and demanding, music and movement," is what Mr. Harry replied when asked about his educational philosophy. He wants to be there for his students, to help them, but at the same time have them get what needs to be done, done.
"I love meeting the new kids, the 'fresh batch' so to speak," he said. "I love the Bellwood community and how everyone here supports everything.  I love how we have sports games and everyone is there, how we have a parade and everyone is there."
Mr. Harry said he would love to teach for the rest of his life, but he would also like to widen his music website, Harrykindergarten.com, by devoting more time to it, and getting more songs out there for other teachers to use.
Colleague Mr. Germino said that Mr. Harry is "vital to our kindergarten team and school. He's not only caring as a teacher but he's there as a friend, too."
"I like that we get to sing," said kindergartner Bryson Hescox when asked about Mr. Harry.
Leave a Comment